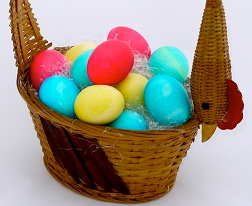 With Good Friday and Easter Sunday falling on the same weekend as Passover this year, the coming weekend promises to be a busy one full of good food and guests. But even with a packed holiday weekend approaching, there's always room for some sous vide in your kitchen. Here are some of our Easter and Passover-approved recipes that will wow you guests … with lots of egg recipes, of course!
These aren't our recipes, but we're pretty crazy about them:
A poster over at Cooking Sous Vide bought a semi-cooked supermarket smoked ham and cooked the ham sous vide. The results were so good, the poster concluded, "You will never, ever bake another ham, I guarantee."
Don't let the lamb shanks from your seder go to waste! Cook them sous vide, then create Sous Vide Lamb Shank Wraps – minus the pita, of course, if you're observing Passover.
If all these recipes aren't enough for you, two years ago we compiled a huge post of great egg recipes from amazing food blogs like Serious Eats and Sleepless Foodie. Check out our High-Tech Easter Eggs post for tons more egg-centric recipes!