Sous Vide Eggs Za'Atar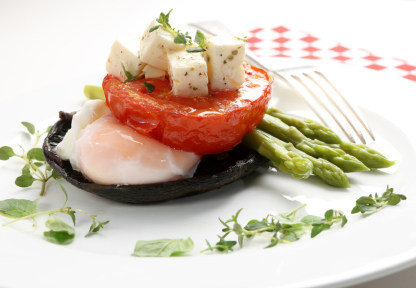 Courtesy of Chef Michael Solomonov of Zahav, Philadelphia, PA
Serves 4
INGREDIENTS
For the eggs
4 large whole eggs
1 large heirloom tomato, quartered or sliced
4 ounces (114 g) Bulgarian feta (or other) diced or crumbled
1/4 teaspoon (1.25 ml) za' atar**
Kosher salt to taste
For the Za'atar Spice Blend**
1/4 cup (30 g) ground sumac
2 tablespoons (12 g) ground thyme
1 tablespoon (10 g) roasted sesame seeds
2 tablespoons (12 g) ground marjoram
2 tablespoons (12 g) ground oregano
1 teaspoon (5 g) coarse salt
INSTRUCTIONS
For the eggs
Fill and preheat SousVide Supreme to 147F /64C.*
Place whole eggs in their shells directly on the bottom perforated grill of the machine or floor of the water bath and cook for 1 hour.
Meanwhile, salt the tomato and arrange the pieces on four serving plates.
Remove the eggs from the water bath, crack them gently onto the plates next to the tomato.
Sprinkle cheese and za'atar on top of the eggs and enjoy.
For the Za'atar Spice Blend**
Grind the sesame seeds in a food processor or with mortar and pestle.
Add remaining ingredients and mix well.
Store in an airtight container or zip closure pouch.
*Note:To quick poach the eggs for this dish, you can increase the temperature of the water bath to 167F/75C and time the eggs to cook for precisely 15 minutes.
**Za'atar is available commercially prepared online or make your own using the recipe above.