The Easiest Egg-coloring Method Ever!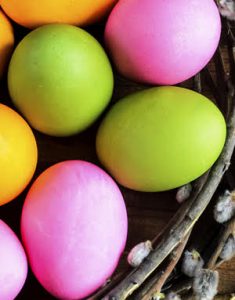 Avoid all the muss and fuss (and mess and smell) of coloring eggs this spring by letting the SousVide Supreme do all the work.  With this method, you can cook and color the eggs in one easy step.  Here's all there is to it. Per dozen eggs, you'll need:
food coloring in your favorite colors
1 quart (0.9 liter) water
8 teaspoons (40 ml) white vinegar
Instructions:
Fill and preheat the SousVide Supreme to 167F/65C.
Put a cup (240 ml) of water into each zip-closure bag. Add 20-40 drops food coloring, 2 teaspoons (10 ml) of the vinegar, and 3 eggs to each bag.
Use the Archimedes Principle to evacuate the air and seal the bags. Submerge the bags and cook at 167F/65C for 1 hour.
Remove the eggs from the coloring solution (which you can reuse to color another batch of eggs if you choose) and cool them in cold water for 15 to 20 minutes.
Refrigerate the colored eggs for up to 3 days, if planning to consume them.