Togarashi Crusted Rack of Lamb

With compressed watermelon, faro, olive, and watercress salad
Courtesy of Chef Josh Horrigan (thechefsacademy.com)
Serves 4 (easy to make multiples, but keep one rack to the pouch)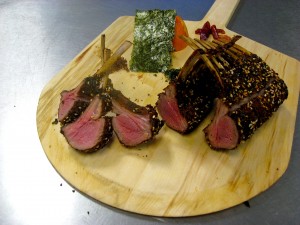 INGREDIENTS
For the lamb
1 Frenched rack of lamb
sea salt and pepper to taste
Togarashi rub
For the togarashi rub
1 tablespoon (15 ml) black sesame seeds
1 tablespoon (15 ml) white sesame seeds
1/2 tablespoon (7.5 ml) orange zest
1 tablespoon (15 ml) white poppy seeds
1/2 tablespoon (7.5 ml) Hungarian paprika
1/2 tablespoon (7.5 ) ancho chile powder or ground dried bird chile
1 tablespoon (15 ml) crushed Szechwan pepper corns
1/2 tablespoon (7.5 ml) ginger powder
2 tablespoons (30 ml) crushed toasted seaweed
INSTRUCTIONS
Fill and preheat the SousVide Supreme to 130F/54.5C.
Combine all rub ingredients in a small bowl and set aside.
Season the rack(s) with salt and pepper.
Heat grape seed oil in a heavy skillet until it's practically smoking and quickly sear the lamb evenly on all sides to brown.
Transfer the lamb to paper towels to cool and draw away moisture.
After the lamb is room temperature, put (each) rack into a large (gallon/3.8 liter) cooking pouch and vacuum seal.
Submerge pouch(es) in the water oven and cook for 2 hours.
Remove pouch(es) from the water bath and, unless serving immediately, submerge the pouch(es) in ice water for 15 to 20 minutes to quick chill. Refrigerate in the pouch(es) until time to serve, up to 48 hours. (Reheat the pouch(es) in the water oven at 130F for 20 to 30 minutes before continuing.
Heat a thin film of grapeseed oil in a skillet over very high heat.
Remove rack(s) from the pouch(es) and cut into double chops.
Rub portions generously with the togarashi spice blend.
Sear double chops, being careful not to overcook the lamb; remember it's already cooked medium rare, you are just trying to toast the togarashi crust.
Plating Suggestion
Plate with Compressed Fresh Watermelon and Farro Salad (recipes follow).
Center a watermelon 'steak' in the plate.
Top with some of the farro salad.
Lightly dress the watercress with olive oil and set over faro.
Bridge the rack of lamb across the top and sprinkle some togarashi over plate edges.

Compressed Fresh Watermelon
INGREDIENTS
4 (1-inch/2.5 cm) thick pieces seedless watermelon
8-10 fresh mint leaves
Remove the rind from the watermelon and cut each piece into 'steaks' about 4 x 5 inches (5 x 12 cm) in size.
Press a mint or two leaf onto each of the melon steaks and put each one gently into separate small (quart/0.9 liter) cooking pouches.
Vacuum seal each pouch, using as much vacuum pressure as possible to draw the pouch tightly down around the melon. (Compression is what you're after here.)
Refrigerate in the pouches until ready to serve.
Sous-Vide Cooked Farro
INGREDIENTS
8 ounces (226 g) farro
1 quart (0.9liters) ice cubes
A pinch of sea salt
Fill and preheat the SousVide Supreme to 182F/ 83.5C.
In a colander, rinse the farro in cold water for about 20 minutes.
Drain the water and pour the farro into a large (gallon/3.8 liter) cooking pouch.
Add the ice and salt and vacuum seal.
Submerge the pouch in the water oven and cook for one hour. Remove the pouch from the water oven, cut open the pouch, and drain off remaining liquid. Spread out on a baking sheet and refrigerate to stop cooking.
Farro salad
INGREDIENTS
1 recipe SousVide Cooked Farro (recipe above)
1 cucumber, peeled and diced small
16-20 kalamata olives, pitted and sliced in half
3 tablespoons (45 ml) minced fresh mint
1 handful watercress, torn into bite-size pieces
1/2 cup (75 g) crumbled feta cheese
1/4 cup (60 ml) olive oil
1 tablespoon (15 ml) dried oregano leaf
1 lemon, for juice
salt and pepper to taste
In a large bowl, combine the cooked faro, cucumber, and kalamata olives.
Add olive oil and lemon juice and gently fold together to distribute throughout.
Add the feta cheese and the oregano and gently toss to combine.