I'm new to the SousVide Supreme world and I'm quickly falling head over heels in love with this method of cooking!  I recently cooked my first batch of fish….WOW!  I'm not going back to any conventional method for fresh halibut!  The fish melts in your mouth; the texture is delicately cooked through to perfection.  The SousVide Supreme will give you moist and gorgeous fish every time; no more over cooking or under cooking, just set the temperature to whatever you prefer, rare (116 F/47 C), medium rare (126 F/52 C) or medium (140 F/60 C) and set your timer for 20 minutes.  It's as simple as that!
If you are like me and new to cooking with a SousVide Supreme you may be wondering if it's okay to pour hot water into the SousVide Supreme?  Why yes it is! This actually speeds up the process of the machine warming the water for you.   I'm a classically trained chef and I was stumped when I first added water to the machine. I thought: does it need to be cold?  What if I break the machine by adding hot water (as it may need to warm evenly)?  After all there are rules in the kitchen surrounding water, correct?  For instance, boiling potatoes on a stove top, one must start with cold water to enable even cooking.  There is the bain marie method, one must start with hot water to enable even and gentle cooking, much like the sous vide method.  In retrospect it really does seem like a silly question, but I thought it worth mentioning to hopefully save some of you the worry.
Being a Pacific Northwest gal, halibut is one of my favorite fish!   The season for fresh fish runs from May to September.  Very low in fat and a great source of omega-3 fatty acids, halibut has quite a high content of Vitamin D, which is not found in many food sources.   Most of us need plenty of Vitamin D, particularly those of us who live in gray climates.
The typical ingredients I pair halibut with are a variety of citrus, olives and fresh herbs.  Below you'll find a couple of my classic sauces.  In our house we also love, Chimichurri and Chermoula, both of which are a great addition to a summer feast of fish or meat and vegetables.  A family favorite is Pounded Olive & Orange Sauce.  When making this sauce, choose a variety of olives…I delight in the different flavors of olives and for this sauce, I always add Castelvetrano due to their buttery flavor and vibrant green color and depending on my mood I choose a few more varieties.  Use a mixture of your favorite olives, however, I beg of you, this is not a time to reach for the ubiquitous Lindsay olive found on conventional grocery store shelves; it's a chance to venture over to the bulk olive section and taste and see what you like!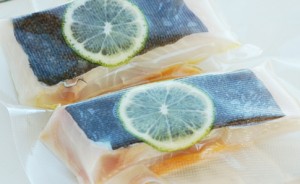 Sous Vide Citrus Halibut
Serves: 4
4 (6 ounce/180 gram) halibut fillets
2 tablespoons (1 fl oz/30 ml) citrus infused olive oil or 2 tablespoons cold butter (1oz/28 g), cubed
8 thin slices of assorted citrus (grapefruit, lime, lemon, orange)
Sea salt
Fill and preheat the SousVide Supreme to 132 degrees F (55.5 degrees C).
Season both sides of the halibut fillets with sea salt.
Put the fillets into a small (1 quart/0.9 liter) cooking pouch, place the citrus slices on each side of the fillet.  Put the fillets into a single layer, 2-3 per cooking pouch.

Drizzle in the citrus olive oil or toss in the butter and vacuum seal.
Submerge the pouches in the water bath and cook for 20 minutes.
Remove from the SousVide Supreme and serve immediately with your favorite sauce.
Pounded Olive & Orange Sauce
Serves: 4
1 small red onion,  peeled, halved and thinly sliced lengthwise
¼ cup (2 fl oz/60 ml) olive oil
8 oz (227 g) Castelvetrano Olives
8 oz (227 g) mixture of your favorite olives (both with and without pits)
3 oranges, divided, 1 for juicing (ie. Valencia) and 2 for segmenting (ie. Cara Cara/Navel)
⅓ cup (2.7 fl oz/78.9 ml) extra-virgin olive oil
small handful of fresh basil, coarsely chopped
small handful of Italian flat-leaf parsley, coarsely chopped
freshly ground black pepper & sea salt to taste
Cut the pitted olives in half or in quarters if particularly big.
With the blunt side of your knife press the olives with pits until they split, or using a heavy bottomed pan pound the olives until split.
In a saute pan warm ¼ cup (2 fl oz/60 ml) olive oil over medium-heat.  Add the onions and cook until soft and translucent, approximately 8 minutes.
Add freshly squeezed orange juice and olives and cook for 1-2 minutes.  Add the orange segments and shut off the heat. Toss in fresh basil and parsley.  Drizzle in ⅓ cup fruity olive oil.  Season with salt and pepper to taste.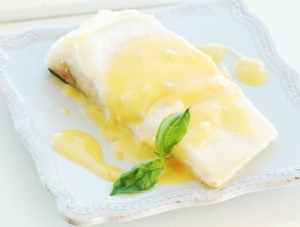 Citrus Beurre Blanc
Yields: 1 cup (8 fl oz/237 ml)
2 tablespoons (1 fl oz/30 ml) dry white wine
1 tablespoon (0.5 fl oz/15 ml) fresh grapefruit juice
1 tablespoon (0.5 fl oz/15 ml) fresh lime juice
1 tablespoon (0.5 fl oz/15 ml) fresh lemon juice
1 tablespoon (0.5 fl oz/15 ml)  fresh orange juice
1 small shallot, finely minced
½ teaspoon sea salt
8 ounces (226 g) cold butter, cut into 16 cubes
In a medium saucepan bring wine, citrus juices and shallots to a boil.  Reduce to about 1 ½ tablespoons (0.8 fl oz/23 ml) of liquid.
Reduce the heat to the lowest setting.  Pull the saucepan from the heat and whisk in 2 cubes of butter; as it melts whisk in one more piece.
Set the pan over the lowest heat setting and continuously whisk one piece of butter into the mixture at a time, making sure that each piece is melted prior to adding the next.
Pull the saucepan off of the heat when the last piece is melted.
Spoon immediately onto serving plates and top with fish.  Alternatively drizzle over the top of fish.