With To Die for Potatoes and Strawberry Corn Relish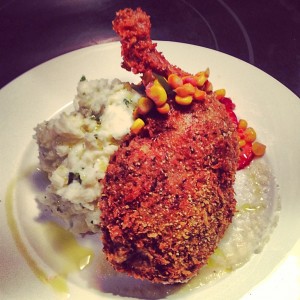 Courtesy of Vivian Peterson
Serves 4
INGREDIENTS
8 chicken thighs, skin on
3 tablespoons (45 ml) sumac powder
3 tablespoons (45 ml) smoked black pepper
1 quart (0.9 liter) vegetable oil
2 cups (198 g) all-purpose flour
2 cups (198 g) panko bread crumbs
1 cup (180 g) Parmesan cheese
4 tablespoons (60 ml) Mediterranean herb seasoning
1 teaspoon (5 ml) kosher salt or to taste
2 teaspoons (10 ml) chili (red pepper) flakes
3 eggs
Sea salt, as desired, to sprinkle on at serving
INSTRUCTIONS
Fill and preheat the SousVide Supreme to 140F/60C.
Sprinkle chicken all over with sumac powder and smoked black pepper.
Arrange pieces in a single layer in a large cooking pouch and vacuum seal.
Submerge in the water oven to cook for 2-1/2 hours.
Just before the chicken has finished cooking, heat vegetable oil in a large skillet over medium high heat.
Meanwhile, prepare the coating mixtures using 3 wide, shallow bowls.

Fill the first with flour
In the second, whisk the eggs well.
Fill the third with a mixture of the panko crumbs, Parmesan cheese, salt, herb seasoning, and chili flakes.

Remove chicken from the water oven, open the pouch, and one by one, dredge each thigh in flour, then dip in the egg wash, and then roll in the panko mixture until fully covered. Repeat with remaining pieces.
Drop the pieces gently, one by one, into the hot oil, turning all sides until fried crispy. Do not overcrowd the pan. Work in batches, if needed.
Remove cooked chicken to a paper-towel-lined plate to drain. Serve.
To Die For Potatoes a la Sous Vide
Serves 4 to 6
5 to 6 russet potatoes, peeled and diced
4 tablespoons (57 g) butter
1/3 cup (12 g) fresh flat leaf Italian parsley chopped
2 tablespoons (30 ml) chopped fresh garlic
1/2 cup (120 ml) heavy whipping cream
1 to 2 teaspoons (10 ml) truffle salt, to taste
1. Fill and preheat the SousVide Supreme to 180 to185F/82 to 85C.
2. Put potatoes into cooking pouch(es), evenly distributed in a single layer without overcrowding, and vacuum seal.
3. Submerge the pouch(es) in the water oven to cook for 1-1/2 hours, until quite tender.
4. Meanwhile, in a skillet on the stovetop, melt the butter and sauté the garlic and parsley until very slightly brown. (Don't let them burn!)
5. Remove the potato pouch(es) from the water oven, open them, and drain the accumulated liquid away; pour the potatoes into a food processor work bowl or a blender, add the sautéed garlic and parsley, the cream, and the truffle salt, and puree until smooth.
6. If not serving right away, put the mashed potatoes into a large zip-closure cooking pouch, remove as much air as possible using just your hands, and zip the seal; keep warm in the water oven or immediately quick chill in the pouch, submerged in an ice water bath for at least 20 minutes, and refrigerate for later use. (Reheat, in the pouch, to serving temperature, along with other foods you may be cooking or reheating.)
7. Transfer the warm potatoes to a serving bowl and enjoy.
Strawberry Corn Relish
Makes about 3 cups
6 ripe strawberries, washed, trimmed and chopped
2 cups (450 g) corn kernels, fresh or frozen/thawed
1 tablespoon (14 g) butter
4 spring onions, trimmed and chopped
1 tablespoon (15 ml) champagne vinaigrette (commercially prepared or your own recipe)
1 teaspoon (5 ml) smoked sea salt
1. In a cast iron pan or other heavy skillet, over medium high heat, add the smoked sea salt, then the scallions and lightly sauté until the scallions are softened.
2. Add the corn and continue to cook for 1 minute.
3. Stir in the vinaigrette and transfer the mixture to a bowl.
4. Add the butter and stir lightly.
5. Fold in fresh strawberries.
Share This Recipe with Friends!