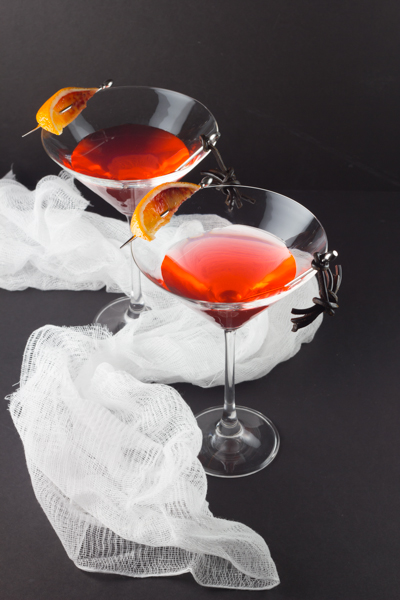 I am still new to sous vide infused spirits, but every time I make a sous vide infused drink I am always amazed and delighted with the results. This month I wanted to try a spooky cocktail, so I decided to make a luscious red infusion. Cranberries are in season, so I set out to make a cranberry gin.
Store bought flavored alcohols are so often disappointing and usually taste and look nothing like the fruit that's supposed to be in them. The magic of sous vide infused drinks is that they actually contain that real fruit flavor. For this cranberry gin, I was really amazed at the great flavor and the beautiful pink/red color that resulted. It was a revelation and didn't taste too sweet like the store bought flavored spirits. This cranberry gin has a subtle and natural flavor that tastes divine.  I was really happy with it as there are so many great cocktails you can make with cranberry gin.  You can make a great cranberry gin and tonic with a slice of orange. Or, it would be delicious with some ginger ale and lime.
For my Halloween cocktail, I made a gin punch with a spooky twist. I added some Cointreau to the cocktail as cranberry and orange are a great combination together.  The Cointreau also added a sweetness to balance the tartness of the cranberries. I added some dry vermouth and for that final Halloween touch, I added a teaspoon of absinthe for mystery and garnished with a shiny black licorice spider and a slice of blood orange. The result was a delicious and potent Halloween libation.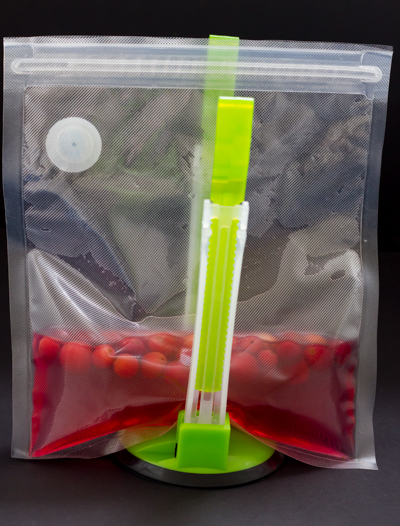 Cranberry Gin
Half bottle (12.6 fl oz / 375 ml) gin
½ cup (60g) of fresh cranberries
Method
Fill and preheat the SousVide Supreme to  153°F ( 67°C)
 Put a (quart /0.95 liter) zip-closure cooking pouches  into a baggy rack.
 Pour the gin into the zip closure cooking pouch, and then add the cranberries to the pouch.
Use the displacement method (Archimedes' principle) to remove the air and zip the seal closed. Once the pouch is zipped closed, submerge it in the preheated water bath for 2 hours.
After two hours, remove the pouch from the water oven and strain the infusion into a bottle or jug using a fine sieve. Discard the cranberries or reserve for another culinary use.  Then, put the jug of gin into a basin of ice water and leave to cool.
Licorice spiders
To make the licorice spiders you will need the following:
Black string licorice
Scissors
Cocktail pick
To make the licorice spiders, use a scissors to cut the licorice into 5 pieces
4 pieces should be 2 inches (5cm) long
The fifth piece should be 9 inches (23 cm) long
Gather the four short pieces of licorice in your hand and wrap the long piece of licorice around the middle of the bundle twice. Tie a knot in the long piece of licorice and leave one long tail of licorice to attach to your cocktail pick.
When you have made the cocktail, tie the long piece of licorice to the cocktail pick and place it in the glass, with the licorice spider hanging over the side.

Witches Brew
(serves 1)
2 fl oz (59ml) of sous vide cranberry gin
½ fl oz (14ml) of dry vermouth
½ fl oz (14ml) of Cointreau
1 teaspoon (5ml) of Absinthe
2 cubes of ice
To serve
1 slice of blood orange
Licorice spider on cocktail  pick
Method
Put the cranberry gin, vermouth, Cointreau and Absinthe into a cocktail shaker
Add the ice. Then, close the lid and shake the cocktail shaker until all ingredients are well combined.
Strain the cocktail into a martini glass.
Garnish with a licorice spider and a slice of blood orange.