Witches Brew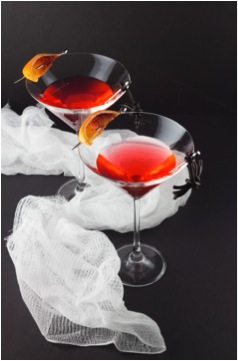 Courtesy of SousVide Supreme Culinary Specialist, Sophie
Makes 1 cocktail
INGREDIENTS
2 ounces (59ml) of sous vide-infused cranberry gin
½ ounce (15ml) of dry vermouth
½ ounce (15ml) of cointreau
1 teaspoon (5ml) of absinthe
2 cubes of ice
1 slice of blood orange, for garnish
1 Licorice spider* on cocktail pick (instructions follow)
DIRECTIONS
Put the cranberry gin, vermouth, Cointreau and Absinthe into a cocktail shaker
Add the ice, close the lid, and shake until all ingredients are well combined.
Strain the cocktail into a martini glass.
Garnish with a licorice spider and a slice of blood orange
For the licorice spiders you will need the following:
Black string licorice
Scissors
Cocktail pick
Use scissors to cut a string of licorice into 5 pieces: four pieces should be 2 inches (5cm) long and the fifth piece should be 9 inches (23 cm) long.
Gather the four short pieces of licorice in your hand and wrap the long piece of licorice around the middle of the bundle twice.
Tie a knot in the long piece of licorice and leave one long tail of licorice to attach to your cocktail pick.
When you have made the cocktail, tie the long piece of licorice to the cocktail pick and place it in the glass, with the licorice spider hanging over the side.
Repeat with another licorice string for as many spiders as you wish to make.