Cranberry Infused Gin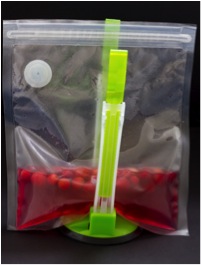 Courtesy of SousVide Supreme Culinary Specialist, Sophie
Makes about ¾ liter (750 ml)

INGREDIENTS
1 bottle (25 fl oz/750 ml) gin
1 cup (120 g) fresh cranberries
DIRECTIONS
Fill and preheat the SousVide Supreme to 153F/67C.
Put a large (gallon /3.8 liter) zip-closure cooking pouch into a baggy rack.
Pour the gin into the pouch and add the cranberries.
Use the displacement method (Archimedes' principle) to remove the air and zip the seal closed.
Once the pouch is zipped closed, submerge it in the water bath for 2 hours.
After two hours, remove the pouch from the water oven and strain the infusion through a fine sieve into a clean bottle or jug with a stopper. Discard the cranberries or reserve for another culinary use.
Put the jug of gin into a basin of ice water and leave to cool. Store in the refrigerator or freezer for weeks.