Calamari Fra Diavolo with Squid Ink Pasta

Courtesy of SousVide Supreme Culinary Specialist, Madeline Fiore
Serves 4
The perfect dinner for a Spooky Halloween evening!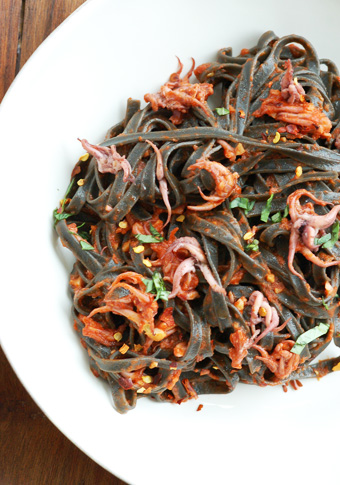 INGREDIENTS
For the squid:
1 pound (453 g) cleaned squid, separate tubes from tentacles
1 cup (237 ml) extra virgin olive oil, divided
½ teaspoon (2.5 ml) Aleppo chili pepper, or your favorite, divided
4 cloves garlic, peeled and crushed
Sea salt and freshly ground black pepper, to taste
For the pasta:
Note: For homemade pasta, it's important to have a scale on hand and to use Italian flour, Tipo 00 (milled extra fine). You can substitute 1 pound (454 g) commercially prepared squid ink pasta, if you don't want to make your own.
18 ounces (510 g) Tipo 00 flour
5 eggs
2 tablespoons (30 ml) squid ink, available online and at specialty markets
4 pinches sea salt
For the Fra Diavolo Sauce:
4 tablespoons (57 g) unsalted butter
4 tablespoons (60 ml) extra virgin olive oil
1 teaspoon (5 ml) crushed red pepper flakes
5 sprigs thyme
5 garlic cloves, peeled and minced
Sea salt and freshly ground black pepper, to taste
28 ounces (794 g) San Marzano tomatoes, crushed
DIRECTIONS:
Fill and preheat SousVide Supreme water oven to 145 F/63 C.
Season the tubes and tentacles with salt and pepper to taste. Put the tubes in one zip-closure cooking pouch and the tentacles into another. Divide the olive oil and chili pepper between the pouches. Toss two crushed garlic cloves into each pouch and seal the pouches using the displacement method Archimedes' Principle.
Submerge the tentacle pouch in the water oven and cook for 2 to 4 hours; add the pouch of tubes and cook both for another 8 hours .
Meanwhile, make the Squid Ink Pasta (if using homemade) – recipe follows.
When the squid are cooked, remove from the pouches from the water oven and, if ready to proceed, drain the olive oil and pouch liquid from the squid, reserving at least ¼ cup (60 ml) to ½ cup (120 ml) for coating the cooked pasta. (If not ready to proceed quick chill the pouches, submerged in ice water (half ice, half water) for 20 minutes and refrigerate for up to 48 hours. Reheat for 20 minutes in the water oven set at 145F/63C.)
Before serving, prepare the Fra Diavolo Sauce:

Using a traditional stovetop heat a large saucepan over medium heat. Add the butter and oil.
Once the butter is melted add the chilies and thyme and let cook for 1 minute.
Add the garlic and cook for about 1 minute or until soft, being careful not to brown.
Pour in the crushed tomatoes and gently simmer for about 8-10 minutes.

Add the squid directly to the warm Fra Diavolo Sauce and stir to coat well.
In a serving bowl, toss the pasta some of the reserved olive oil and pouch liquor.
Add the sauce and squid and toss again; garnish with fresh basil and serve .
For the Squid Ink Pasta:
Mound the flour onto a clean counter top, or in a bowl.
Create a well in the middle of the flour, crack the eggs into it and pour in the squid ink.
Using a fork, beat the egg-ink mixture until smooth and gently incorporate all of the flour into the egg mixture.
Flour your hands and knead the dough. If the dough is feeling a bit too sticky then add a bit more flour, if the dough is feeling too dry then run your hands under cold water and knead the dough.
Knead for about 5 minutes. Your aim is for silky and elastic dough, once you've reached this lovely consistency, cover the dough with plastic wrap and leave it to rest (relax) on the counter for about half an hour.
Using a pasta machine or if you are ambitious using a rolling pin, roll the dough into a thin sheet, starting at the widest setting and working your way down to the second narrowest setting.
Either cut pasta into long noodles by hand or run through the pasta machine with your favorite noodle setting.
Using a traditional stovetop bring a large pot of salted water to a boil.
Put the noodles into the boiling water and cook for 3-4 minutes or until cooked through to the texture you prefer, tested by biting a strand. (Commercially prepared pasta will take about 6 to 7 minutes.)