Santa may have made his list and checked it twice, but let's be honest: Sometimes, the gift-giving season sneaks up on even the most organized of us, pouncing like a festively adorned tiger. Such a thing happened to this very blogger, when I realized that it was the second night of Hanukkah and four days till Christmas, and I had yet to write a blog post about last-minute gifts.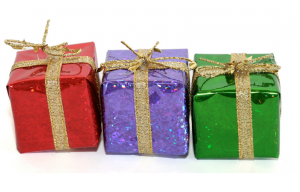 It's no secret that sous vide cooking can be a huge time and energy-saver. Whether it's allowing you to cook a week's worth of meals or helping you cook the perfect turkey, bringing sous vide into your kitchen means opening the door to countless new food opportunities. And, at the holidays, it means a solution to the last-minute scramble for presents so many of us face.
Sous Vide Cuts Infusing Time Down To Only 3-hours or less!
Traditionally, it takes at least two weeks to create an infused alcohol. Fortunately, sous vide cooking cuts infusing time down to an astonishing three hours. And for those on your list who don't imbibe, the precise temperature controls of your SousVide Supreme allow you to perfectly temper chocolate for dipping, givin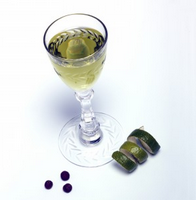 g the chocolate an otherwise difficult-to-achieve glossy finish. If we've piqued your interest, read on for our suggestions!
Falernum
Falernum (pronounced fah-learn-um) is an aromatic herbal infusion that makes a delightful, sweet tipple It can be built variously on the flavors of almond, ginger, cloves, vanilla and allspice. Though widely used in Caribbean and in tropical cocktails in a manner similar to orgeat syrup–think Zombie, Mai Tai–we can attest that it is quite delicious on its own as a cordial or drunk on the rocks. And it's oh, so very simple to make with our recipe.
Ginger Brandy
Ginger fanatics rejoice! After Chicago-area blogger Jen Caputo tried a local distillery's ginger  liqueur, she dubbed it her "crack" and set about trying to replicate it. After some (delicious) trial and error, she settled on a recipe that cuts the earthiness of brandy with a sharp kick of ginger. She's been kind enough to share her special recipe for Ginger Brandy with us. If you're not a brandy fan, it can be made with vodka (the photo is of her vodka-based recipe). Jen's
Ginger Liqueur is just unusual enough to make the gift-giver look creative, but is still an accessible flavor for even the less adventurous imbibers in your life.
Easy Limoncello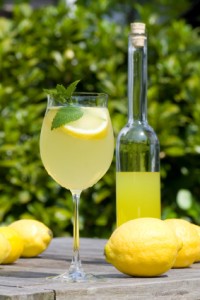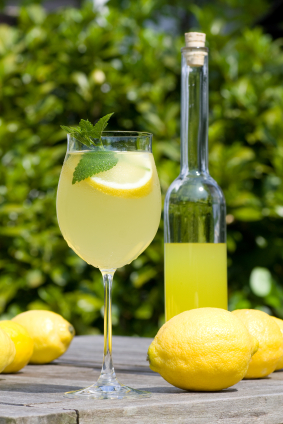 Alcohol is always an easy thank-you gift for a holiday party host. We recommend our
Easy Limoncello recipe. Bright and tart, it's a great gift that can be shared at the party (even if it's better to give than receive, it's always nice to share).
Earl Grey-Infused Gin
Everyone has that one friend who has taken up mixology as their new obsession. Even if your friend denies it, there are telltale signs: the fully stocked bar, the obscure drink mixing accessories, the well-worn muddler, and the mason jars full of strange-looking brews in the depths of their cabinets. Make their lives a little easier by giving them a homemade batch of Earl Grey-infused Gin.
Bacon-Infused Bourbon Cordial
Forget cute pictures of cats or a video of some kid after the dentist. The real internet obsession is bacon. And with good reason: it's crunchy, greasy, salty, and delicious. Plus, there's something inherently funny about it. Indulge your bacon-loving friends and family with this Bacon-Infused Bourbon Cordial. If nothing else, it will finally give them a good excuse to start drinking in the morning.
For those who keep kosher, we haven't tried this recipe with turkey bacon, but it should work the same. If you try it, let us know how it turns out!
Cranberry Vodka
What can be said about vodka and cranberry that hasn't already been said by countless bar patrons? Whether it's being poured as a well drink or mixed together as part of a Cosmo, vodka and cranberry is a tried-and-true combination. Make our Cranberry-Infused Vodka for anyone who considers a vodka-cranberry their drink of choice or for your friend who just can't let Sex and the City go.
Non-Alcoholic Ideas: Chocolate-Dipped Cookies, Pretzels, Fruit or Bacon!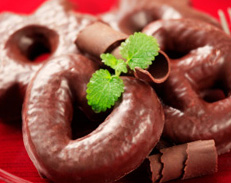 Of course, there are some times when alcohol just isn't an appropriate gift. For instance, it is not recommended that you give your child's third-grade teacher liquor. Likewise, it is not recommended that you give your third-grade nephew liquor. In both cases, however, there's an easy solution: chocolate-dipped cookies, pretzels, fruit, or bacon.
As was mentioned, it can be difficult to achieve a perfectly-glossy finish with dipping chocolate. The process can be tricky, but the SousVide Supreme makes reaching and maintaining the necessary temperatures easy. Our guide for tempering chocolate breaks the process down step-by-step to help make it as simple as possible.
You can dip just about anything in the chocolate, but we love SmittenKitchen.com's recipe for candied orange peels. We opt to use our recipe for Sous Vide Simple Syrup rather than creating it on the stovetop, but either way, the end result is absolutely delicious! They present particularly well in a mug with a clever catchphrase on it.
Nothing won you over? How about…
Of course, if you're not feeling particularly do-it-yourself this year, it's easier than ever to give someone the gift of sous vide. We now offer online gift certificates that can be emailed to loved ones in a matter of minutes – ideal for the cousin you forgot existed until they showed up at your doorstep for Christmas dinner. We suggest including this blog post in the message to help them think of a great way to thank you for your gift.
No matter what the gift or occasion, all of us at SousVide Supreme hope you have a wonderful holiday season and a happy, healthy, and delicious New Year.
If you've tried any of these recipes, or created one of your own, make sure to share them with us on the SousVide Supreme Facebook page or on Twitter at @SousVideSupreme.