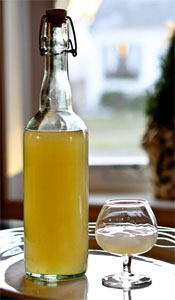 Recipe Courtesy of Jen Caputo
INGREDIENTS
4-1/2 ounces (128 g) fresh ginger

3/4 cup (375 ml) brandy

3/4 cup (144 g) sugar

1 cup (240 ml) water
INSTRUCTIONS

Fill and preheat the SousVide Supreme to 135F/57C.

Peel and grate the ginger.

Put the ginger and brandy in a zip-closure cooking pouch and, using the displacement method

(Archimedes Principle) remove the air and zip the seal closed.

Cook for two hours.

In a separate pouch or in a saucepan on the stove, combine water and sugar to make simple sugar (instructions for

sous vide simple sugar here

, for

stovetop simple sugar here

).

Strain the brandy and ginger mixture into a clean stoppered bottle.

Add the simple syrup to taste.
Share This Recipe with Friends!