Easy Limoncello

Makes 2 quarts (1.8 liters)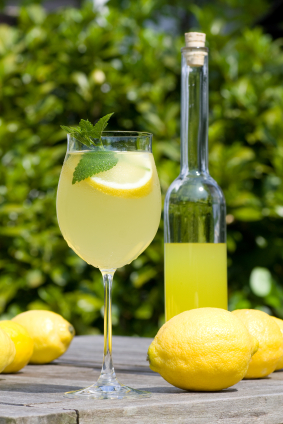 INGREDIENTS
10 fresh lemons (for zest)
1 1/2 (288 g) cups castor (superfine) sugar
1 quart (960 ml) water
1 quart (960 ml) vodka
INSTRUCTIONS
Fill and preheat the SousVide Supreme to 135F/57C.
With a vegetable peeler or sharp paring knife, remove the zest from the lemons. (Save the lemons themselves for another use.) Take the time to scrape away any bits of bitter white pith from the underside of the pieces of zest with a sharp knife.
Put the lemon zest into a large (gallon/3.8 liter) zip-closure cooking pouch. Add the vodka and cook for 2 hours.
Meanwhile, in a saucepan over medium heat, completely dissolve the sugar in the water and set aside to cool.
When the cooking time has elapsed, strain the vodka into a bowl or pitcher. Stir in the simple syrup and pour the finished limoncello into clean bottles with tightly fitting stoppers.
Chill well and enjoy!