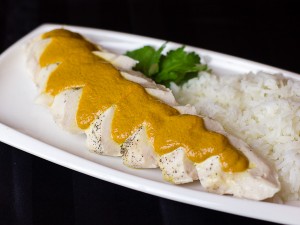 Courtesy of Steve Cylka (theblackpeppercorn.com)
Serves 4
INGREDIENTS
4 boneless skinless chicken breasts
2 tablespoons (28 g) butter
pinch of salt and pepper
1 can (about 2 cups/240 ml) crushed or strained tomatoes
2 cups (480 ml) half-and-half (18%) cream
1-inch (2.5 cm) piece fresh ginger, peeled and cut into chunks
4 garlic cloves, peeled
1½ tablespoons (22.5 ml) honey
1 tablespoon (15 ml) paprika
1 tablespoon (15 ml) cumin
1 tablespoon (15 ml) turmeric
2 teaspoons (10 ml) coriander
1½ teaspoons (7.5 ml) salt
2 cups (320 g) cooked rice, for serving
Fresh cilantro, for garnish
DIRECTIONS
Fill and preheat the SousVide Supreme water oven to 146F/63C.
Sprinkle salt and pepper on the chicken breasts; put them and the butter into cooking pouches and vacuum seal.
Into a blender or food processor, put the tomatoes, cream, ginger, garlic, honey and spices and process until smooth.
Pour the sauce into a large (gallon/3.8 liter) zip-closure cooking pouch. Use the displacement method (Archimedes Principle) to remove the air and zip the seal.
Submerge the pouches of chicken and sauce in the water oven and cook for 2 hours.
To plate:
1. Slice the chicken and drizzle generously with the tikka masala sauce.
2. Serve over rice and garnish with cilantro.
Share This Recipe with Friends!