This spring we have a new trick up our sleeves! If you like pickling or you're curious about the process, then you'll be thrilled to try this timely technique with a SousVide Supreme. No need to wait 24-72 hours for your pickles to cure, you will have a delightfully crunchy pickle in as little as 25 minutes and at most in an hour.
How you might ask? Our water oven gently infuses vegetables with brine that in turn creates a quick pickle. Tender vegetables, such as spring asparagus, infuse in just 10 minutes in the SousVide Supreme and radishes or thickly cut root vegetables pickle and cook within 45 minutes. After the infusion is complete, all that is left to do is quickly chill the pickles and you'll have plenty of time to spare.
This brine is incredibly versatile; make it your own and use it for any of your favorite vegetables. If you prefer spicy pickles, then add your favorite fresh chili peppers. If you have a sweet tooth, then add more sugar or, should the case be just the opposite, then take the sugar out completely. Perhaps you like apple cider vinegar or have another beloved vinegar; try it out. Lastly, if you have your own perfected blend of pickling spices, then use it!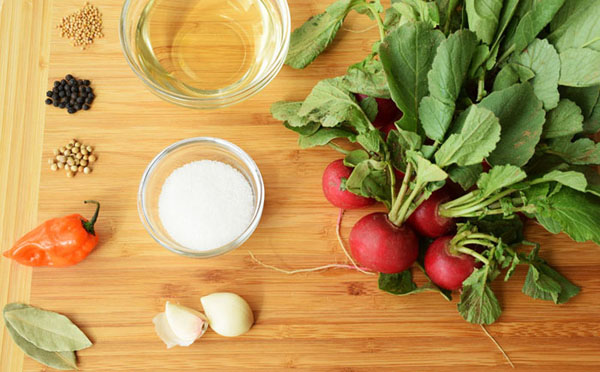 So what are you waiting for? Head to your local market and fill your basket with spring vegetables, such as carrots, radishes, asparagus and garlic shoots. Set your SousVide Supreme to 190F (88C) and get to pickling. All pickles will keep in an airtight container in the fridge for up to one month, but if you are anything like us they'll be gone within a few days!
Pickled Spring Vegetables
Ingredients
12 ounces (340g) radishes (trimmed, unpeeled, quartered) OR asparagus (woody ends trimmed)
2/3 cup (160ml) white wine vinegar
2/3 cup (160ml) water
3 tablespoons (45ml) sugar
1 tablespoon (15ml) sea salt
½ teaspoon (2.5ml) whole peppercorns
½ teaspoon (2.5ml) yellow or brown mustard seeds
¼ teaspoon (1.25ml) coriander seeds
2 cloves garlic, peeled and sliced in half lengthwise
1 bay leaf
Optional: fresh chili pepper, sliced in half
Instructions
1. Fill and preheat the water oven to 190F (88C). If you've chosen the radishes then wash, trim, quarter and put into a large zip pouch in a single layer.
2. If you've chosen the asparagus then wash and trim off the woody ends and put into a large zip pouch (or, if you have a chamber vacuum sealer, in a chamber vacuum pouch) in a single layer.
3. Bring all of the remaining ingredients to a boil on a traditional stovetop and stir gently until the sugar is melted.
4. Pour this hot liquid over the prepped vegetables and seal the pouch using the displacement method (Archimedes' Principle) to remove the air and zip the seal (or vacuum seal in the chamber vacuum).
5. For the radishes: Cook in the SousVide Supreme at 190F (88C) for 45 minutes.
For the asparagus: Cook in the SousVide Supreme at 190F (88C) for 10 minutes.
6. Remove the pouch and submerge it in an ice water bath (half ice, half water) for 15 minutes to stop the cooking process and quick-chill the contents.