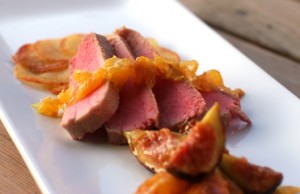 Courtesy of Linda Miller Nicholson, SaltySeattle.com
Serves 4
INGREDIENTS
1 pound (454 g) block sushi-grade ahi tuna (COLD)
Kosher salt and pepper
4 tablespoons (57 g) duck fat, solid
2 organic oranges, one for juice and zest, one for slices
2 tablespoons (30 ml) honey
1 tablespoon (15 ml) champagne vinegar
4 figs, quartered
¼ cup (60 ml) duck stock (use chicken, if duck is not on hand)
DIRECTIONS
Fill and preheat SousVide Supreme water oven to 138F/59C
Pat the tuna dry and season it with salt and pepper.
Put the tuna into a cooking pouch along with duck fat and vacuum seal.
Submerge the pouch in the water oven to poach for 17 minutes.
Meanwhile, zest and juice the orange.
On the stovetop, in a skillet just large enough to hold the tuna, reduce orange juice, zest, honey, and vinegar to thin syrup consistency. Be careful not to reduce too much or you will not have enough syrup to glaze the tuna.
Remove the tuna from the water bath and pour two tablespoons of the duck/tuna fat from the pouch into the skillet with the orange glaze.
Heat the skillet to medium high and sear the tuna quickly on all sides in the orange glaze, so as not to further cook the inside of the tuna block. Remove the tuna to a cutting board to rest.
Add the champagne vinegar to the skillet and deglaze the pan, scraping with a wooden spoon. Then add the figs and orange slices to the skillet and coat with the remaining glaze.
Add the duck stock, scrape the pan again with a wooden spoon to deglaze, and again reduce by half. This should take two minutes.
While the stock is reducing to sauce, slice the tuna into quarter-inch thick rectangles.
Arrange on a plate along with the figs, orange slices and sauce.
Share This Recipe with Friends!