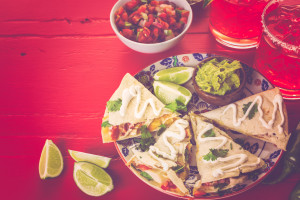 Serves 4
For the meat
1 pound (0.9 kg) flank steak – OR –
1 pound (0.9 kg) chicken tenders, cut into bite sized pieces
For the spice mix
1 teaspoon (5 ml) sea salt
1 teaspoon (5 ml) paprika
½ teaspoon (2.5 ml) garlic powder
½ teaspoon (2.5 ml) onion powder
½ teaspoon (2.5 ml) ground cumin
½ teaspoon (2.5 ml) dry mustard powder
¼ teaspoon (1.25 ml) ground black pepper
1/8 teaspoon (0.6 ml) cayenne pepper (or to taste)
For the vegetables
1 green bell pepper, stemmed, seeded, and sliced
1 sweet onion, peeled and thinly sliced
2 tablespoons (30 ml) olive oil
Additional for assembly
8 flour tortillas
2 ½ cups (about 6 ounces/180 g) Mexican blend cheese
1 tomato, seeded and diced
handful fresh cilantro, chopped
4 tablespoons (60 ml) sour cream, optional
4 lime wedges
DIRECTIONS
Fill and preheat the SousVide Supreme water oven and set the temperature to 130F/54.5C for steak or 146F/63.5C for chicken.
Combine all spice mix ingredients and use to season the meat on all sides; put meat into a cooking pouch and vacuum seal.
Submerge in the water oven to cook (steak for 4 hours/ chicken for 1 hour.
Prior to serving, heat olive oil in a skillet on the stovetop and sauté the bell pepper and onions until lightly golden on the edges. Keep warm for assembly.
Remove the steak from the water oven and pat dry.
 Preheat a lightly oiled griddle on the stovetop and sear the meat on both sides to impart flavor. Cool a moment and then, if using steak, slice it into strips for assembly.
 Assemble the quesadillas: lay out 4 tortillas and top with half the cheese. Divide the meat, cooked vegetables among them, and top with remaining cheese. Top with another tortilla.
Toast the quesadillas on the griddle until beginning to brown on the bottom, then flip and brown the other side, giving the cheese plenty of time to melt.
Cut each quesadilla into wedges; scatter the diced tomatoes and cilantro over the tops and serve with sour cream and lime wedges.