Recipe courtesy of Derek Gaughan (www.sousvideguy.com)
Makes approximately 3 quart-sized jars of pickles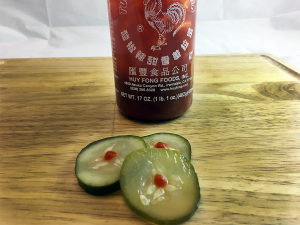 INGREDIENTS
For the brine
 21 ounces (630 ml) water
 21 ounces (630 ml) white wine vinegar
¼ cup salt (70 g)
¾ cup sugar (170 g) Note: like your pickles a little sweeter? Up it to 1 cup.
3 tablespoons (45 ml) Sriracha
For the vegetables
4 cucumbers or 15 to 20 pickling cucumbers
3 jalapeños, sliced in half
6 cloves garlic, peeled and chopped
9 sprigs fresh dill
3 teaspoons whole peppercorns
Additional for assembly
Quart-sized canning jars with lids, cleaned and scalded with boiling water
DIRECTIONS
Fill and preheat the SousVide Supreme water oven to 145F/63C.
In a bowl, combine the water, vinegar, salt, sugar, and Sriracha and stir until dissolved.
Cut large cucumbers to desired shape: spears or chips. Leave small pickling cucumbers whole.
Put the cucumbers into the canning jars, ensuring they are not too tightly packed and have room to float.
Add two jalapeño halves to each jar, tucking the halves between the cucumbers.
Add 2 cloves of the garlic (diced), 3 sprigs of fresh dill, and 1 teaspoon of the peppercorns to each jar.
Pour in the brine, ensuring that you leave an inch/2.5 cm of free space at the top for movement.
Lightly close the jar lids; do not over-tighten the lids, as air must escape during the cooking process.
Place into the water bath and cook for 3 hours.
Remove the jars, screw caps on securely, and let them rest at room temperature for at least 8 hours.
Store in a cool, dark place or refrigerate.