Sous Vide Black Pepper and Port Foie Gras
Courtesy of Chef Sean Heather
Serves 4 to 6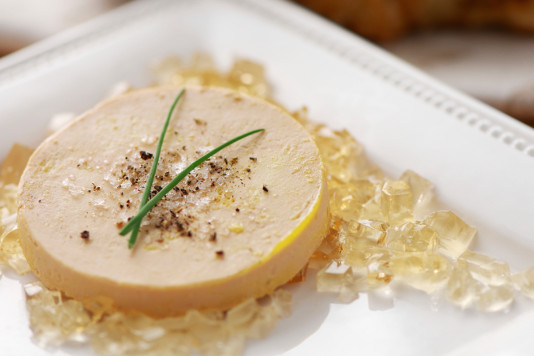 Ingredients
1 lobe (400 – 500 g) foie gras
1 tablespoon (16 g) kosher salt
1 ½ teaspoon (8 g) freshly cracked black pepper
2 ounces plus 2 teaspoons (70 ml) tawny port
Directions
1) Fill and preheat the SousVide Supreme to 132F/55.5C
2) Bring foie gras to room temperature and remove all veins to the best of your ability.
3) Season the foie gras with the salt, pepper and port.
4) Form the foie gras into a shape of a log; wrap in plastic wrap (cling film) really tightly and refrigerate overnight.
5) Put the wrapped log into a cooking pouch and vacuum seal. (Do not let the vacuum crush the log.)
6) Submerge the pouch in the water bath and cook for 40 minutes.
7) After the 40 minutes, immediately plunge the pouch into an ice water bath to chill, about 15 to 20 minutes.
8) Remove the foie from the pouch, remove the plastic wrap, and serve.
To serve:
Slice the foie gras and serve with preserved fruits (tart or sweet) , honey or pickled vegetables.
---
No water oven? No worries! We can fix that.