Halibut Beurre Rouge

…with Shaved Asparagus, Morels, and Heirloom Potatoes
Courtesy of Chef Phillip Foss, EL Ideas, Chicago, Illinois
Serves 4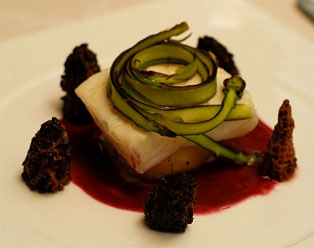 Cooking time: 20 minutes
INGREDIENTS
4 (6 oz/180 g each) halibut fillets
1 stick (4 oz/113 g) unsalted butter
Salt, to taste
4 sprigs thyme
For the plating

Heirloom Potatoes (recipe follows)
Shaved Asparagus with Balsamic Vinaigrette (recipe follows)
Morels (recipe follows)
Beurre Rouge (recipe follows)
INSTRUCTIONS
For the halibut
Fill and preheat the SousVide Supreme water oven to 132°F (55.5C).
Season the halibut on both sides with salt.
Put the fillets, two to a pouch, into small (1 quart/0.9 liter) cooking pouches, along with the butter and sprigs of thyme and vacuum seal.
Submerge the pouches in the water bath and cook for 20 minutes.
Remove and keep warm.
Chef's Recommended Plating
Arrange the heirloom potatoes in the center of heated plates and spoon the beurre rouge around them.
Scatter a few morels around the dish.
Remove the halibut from the pouch and very gently place a fillet atop the potatoes.
Gently position a pile of shaved asparagus atop the halibut and serve.
Heirloom Potatoes
Serves: 4
Cooking time: 25 minutes
INGREDIENTS
1 pound (450 g) heirloom potatoes (binje or similar)
2 ounces (60 ml) olive oil
5 sprigs thyme
Salt and fresh cracked black pepper to taste
INSTRUCTIONS
Preheat a traditional oven to 350°F (176.5°C).
Wash the potatoes under cold water and transfer to paper toweling to dry.
In a mixing bowl, toss the potatoes with the oil, thyme, salt and pepper.
Transfer the potatoes to a foil lined baking sheet and cover completely with another sheet of aluminum foil.
Cook in the oven for 25 minutes or until potatoes are tender.
Remove from foil and keep warm.
Shaved Asparagus with Balsamic Vinaigrette
Serves 4
Preparation time: 10 minutes
INGREDIENTS
2 green asparagus
2 purple asparagus
1 tablespoon (15 ml) good balsamic vinegar
Salt and fresh cracked black pepper
3 tablespoons (45 ml) olive oil
INSTRUCTIONS
Using a vegetable peeler, carefully peel the asparagus to create long shavings.
To make the balsamic vinaigrette, whisk together a good balsamic vinegar, salt and pepper, then whisk in the olive oil in a slow steady stream. Set aside.
When ready to serve, lightly and gently toss the asparagus shavings in the balsamic vinaigrette and season to taste.
Morels
Serves 4
Cooking time: 10 minutes
INGREDIENTS
2 ounces (57 g) unsalted butter
2 shallots, chopped
8 ounces (227 g) fresh morels, trimmed and well washed
Salt and pepper to taste
INSTRUCTIONS
Heat a small sauté pan over medium heat and melt the butter.
Add the shallots and cook until translucent.
Add the morels and sweat until tender, about 5 minutes.
Season to taste with salt and pepper, and hold warm until plating.
Beurre Rouge
Serves 4
Cooking time: 15 minutes
INGREDIENTS
8 ounces (240 ml) red wine
1 tablespoon (15 ml) shallot, finely minced
3 sprigs thyme
1 ounce (30 ml) sauce meurette or cream
2 sticks (8 oz/227 g) unsalted butter, cubed and chilled
Salt and fresh cracked black pepper to taste
INSTRUCTIONS
In a non-reactive sauce pot over medium-high heat, pour the wine and add the shallots and thyme sprigs, and cook until reduced to a syrup-like consistency.
Add the sauce meurette (or cream) and reduce by half.
Reduce the heat to low, and using a wire whisk, incorporate a couple cubes of the butter, whisking continuously until the butter has melted.
Gradually add more butter using the same technique until all of the butter has been incorporated.
Strain through a fine meshed strainer and keep warm (but not hot) until ready to plate.