Lamb with Tomato Confit
Courtesy of Chef Jason Wilson (Crush, Seattle, WA)
Serves 4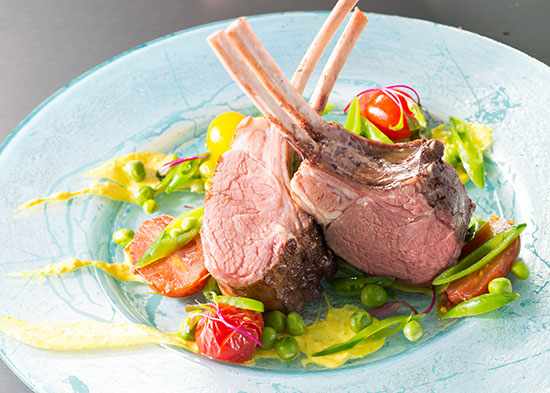 INGREDIENTS
1 rack fresh lamb (American, New Zealand, or Scottish)
1 tablespoon (15 ml) kosher salt (divided use)
1 teaspoon (5 ml) ground black pepper
2 sprigs rosemary
1 pint cherry or heirloom tomatoes
½ bunch mint
¼ cup (60 ml) olive oil
2 cloves garlic, peeled
1 teaspoon (5 ml) chile flakes
DIRECTIONS
Fill and preheat the Sous Vide Supreme water oven to 136F/58C.
Season the lamb evenly with salt and pepper, put into a cooking pouch with the rosemary sprigs and vacuum seal fully.
Submerge the pouch in the sous vide water oven and set timer for 2 hours, so you will know when the minimum cooking time has elapsed. (The rack can stay longer if needed, but will be cooked through in 2 hours.)
Meanwhile, slice the garlic thinly and simmer in a pan on the stovetop in olive oil for 3 minutes.
Put the tomatoes, olive oil, garlic, mint, remaining salt, and chile flakes into a cooking pouch and vacuum seal. (Unless using a chamber vacuum sealer, take great care not to pull oil into the suction chamber of the vacuum sealer by forcing the seal before oil enters the chamber. Use the Moist setting, if available, to reinforce the seal.)
Submerge the pouch in water oven alongside the lamb for 1 hour.
When timer sounds, remove all pouches.
On a well-oiled grill or grill pan, over high heat, quickly sear the lamb on all sides.
Open the pouch of tomatoes; remove the mint and drain the oil away (reserving the flavorful oil for another use, if desired). Serve with the lamb.