Basic Short Ribs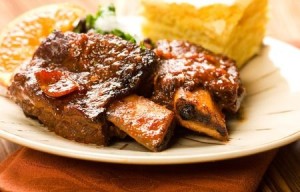 Courtesy of Chef Jason Wilson (Crush, Seattle)
Serves 6
INGREDIENTS
For the beef short ribs
6 (7-ounce/200 g) beef short ribs

2 tablespoons (30 ml) kosher salt

1 teaspoon (5 ml) ground black pepper

1 recipe Parsley Salad (recipe follows) for garnish
For the parsley salad
24 parsley leaves

2 tablespoons (30 ml) freshly grated horseradish

1 teaspoon (5 ml) white truffle oil

1 teaspoon (5 ml) fresh lemon juice

1 teaspoon (5 ml) kosher salt
INSTRUCTIONS
For the beef short ribs
Fill and preheat the SousVide Supreme to 156F/69C.

Trim the short ribs of silver skin and excess fat and cut them evenly into thick blocks.

Season short ribs evenly with salt and pepper and put them into cooking pouches and freeze for 40 minutes, then vacuum seal the ribs.

Submerge in the water oven and cook for 48 hours.

If desired, brush with a little barbecue sauce or hoisin glaze and sear the ribs for a minute or two in a hot skillet to caramelize the surface.
For the parsley salad
Mix all ingredients together in a small bowl as a garnish for the short ribs.