Garden Vegetable Salad Sous Vide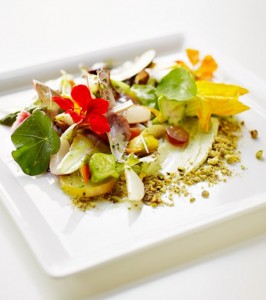 Courtesy of Chef Jason Wilson – Crush, Seattle WA
Watch Video of Chef Jason Wilson talking about SousVide Supreme
Time: 2-8 hours
Temperature: 156F/68C
Serves: 4
INGREDIENTS
For the sous vide vegetables
8 French breakfast radishes (or red radishes), cut in quarters lengthwise
8 baby zucchini, cut in quarters lengthwise
8 baby pattipan squash, cut in quarters lengthwise
12 sugar snap peas, trimmed of the ends and strings removed
8 haricot vert or yellow wax beans
8 slices (½ inch/1.25 cm) peeled English cucumber
8 whole red pearl onions, peeled and cut in half
8 baby turnips, peeled and sliced in half
8 golden baby beets, peeled and sliced in quarters
2 whole carrots, peeled and sliced in 3-inch/7.6 cm pieces
¼ cup (50 ml) extra virgin olive oil
3 tablespoons (45 ml) Kosher salt
For the salad
8 ounces (227 g) fresh chèvre
10 leaves fresh mint, finely chopped
10 leaves fresh basil, finely chopped
10 leaves fresh Italian parsley, finely chopped
3 tablespoons (45 ml) chives, finely chopped
3 tablespoons (45 ml) olive oil
1 tablespoon (15 ml) Kosher salt
¼ cup (57 g) ground and toasted pistachios
1 bunch baby romaine
1 bunch watercress
1 bunch arugula
Various herb leaves and flowers to garnish.
Lemon juice and olive oil to dress
INSTRUCTIONS
Fill and preheat SousVide Supreme to 156F/68C.
Drizzle the vegetables with olive oil and sprinkle evenly with salt.
Put each type of vegetable into a separate cooking pouch and vacuum seal.
Submerge the pouches in the water oven and cook as specified below:

45 minutes: carrots & beets
22 minutes: onions, turnips
6 minutes: pattipans, zucchini, snap peas, haricot vert

When its cooking time has elapsed, remove each vegetable from bath and submerge it, in its pouch, in an ice water bath for at least 10 minutes to arrest cooking.
Meanwhile, in a small mixing bowl, combine the cheese, minced herbs, olive oil salt and nuts and mix until smooth.. Set aside.
When ready to plate the salad, remove the cooked vegetables from pouch and arrange them (except carrots) on a bed of watercress and arugula.
Use a peeler to slice the carrots into ribbons over the top of the salad
Drizzle the top of the salad with olive oil and lemon juice to taste.
Garnish each plate with a quarter of the chevré mixture and fresh herbs or flowers and serve.