Thai Glazed Pork Ribs

with Watermelon Jicama Salsa
Watch the Sous Vide Gourmet Cooking Video Series to see how to prepare this dish.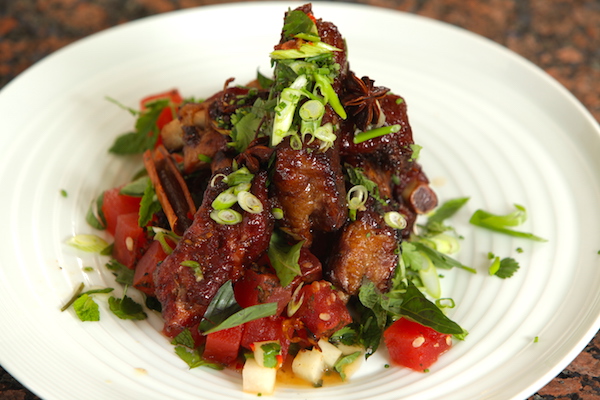 Courtesy of Chef Jason Wilson, Crush, Seattle, WA
Serves 4
INGREDIENTS
3 pounds (1.5 kg) baby back pork ribs
For the glaze
1/4 cup (60 ml) hoisin sauce
1 tablespoon (15 ml) peeled, sliced garlic
2 tablespoons (30 ml) chopped lemongrass
1 cup (240 ml) soy sauce
1/4 cup (60 ml) fish sauce
2 tablespoons (30 ml) brown sugar
3 tablespoons (45 ml) finely chopped ginger
10 kaffir lime leaves (optional)
1 teaspoon (5 ml) kosher salt
For the salsa
1/2 pound (227 g) fresh jicama, peeled and diced
2 pods star anise
1 cinnamon stick
1/4 cup (60 ml) fresh lime juice
2 tablespoons (30 ml) finely chopped red jalapenos
2 cups (300 g) fresh watermelon, peeled and diced
2 tablespoons (30 ml) Chinese five spice powder
10 leaves fresh mint, roughly chopped
For fresh herb garnish
10 leaves fresh Thai basil, roughly chopped
10 stems fresh cilantro, roughly chopped
2 scallions, green and white parts, chopped
10 leaves fresh mint, finely chopped
INSTRUCTIONS
Fill and preheat the SousVide Supreme to 160F/71C.
Separate the pork rack into individual ribs and reserve refrigerated.
In a non-reactive saucepan over medium heat, whisk together the hoisin, garlic, lemongrass, soy sauce, fish sauce, brown sugar, ginger, kaffir lime leaves and kosher salt and simmer until the sugar has melted, about 15 minutes, to make a glaze.
Put 4 to 6 ribs in an even single layer into several small (quart/0.9 liter) cooking pouches.
Soak the ribs with the glaze mixture to coat them thoroughly, evenly distributing the glaze among the pouches, and vacuum seal them.
Submerge the pouches in the water oven and cook for 18 hours.
When the ribs are cooked, remove the pouches and plunge them into an ice water bath for 30 minutes.
Reset the temperature of the SousVide Supreme to 150F/65C, adding a little cold water to the bath to hasten the cooling.
Meanwhile, open the pouches and pour the sauce and accumulated liquid into a saucepan over medium heat to simmer for 15minutes.
In a bowl, toss the jicama with the star anise, cinnamon, lime juice and jalapenos, pour into a small (quart/0.9 liter) cooking pouch and vacuum seal.
Submerge the pouch and cook for 15 minutes.
Put the watermelon in an even layer into a small (quart/0.9 liter) cooking pouch, generously sprinkle all over with the five spice powder, and vacuum seal.
Submerge the pouch and cook alongside the jicama for an additional 5 minutes.
Remove the jicama and watermelon from their pouches, chop more finely if necessary, and toss them with their juices and the finely chopped mint to make the salsa.
Season the salsa with a little of kosher salt to your taste and set aside.
Preheat the traditional oven broiler to high.
Put the ribs on a broiling pan, brush them with the sauce reduction and broil for 8 to 10 minutes to caramelize.
Remove ribs from broiler and serve with the salsa. Garnish the plate with chopped fresh herbs and scallions.