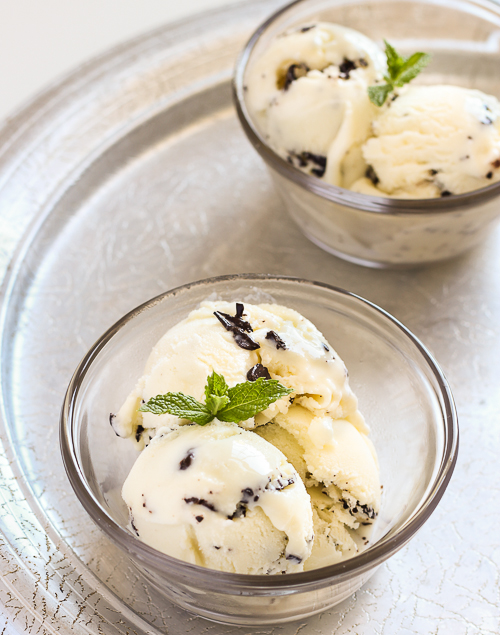 By now, I've made a few ice-cream bases in my SousVide Supreme and have had great success with them all – my favorites being the peach ice-cream, and crème brulee ice-cream. Making a custard base in the SousVide Supreme is so much easier than making custard on a stove top. By making it in the SousVide Supreme you can simply put the ingredients in a pouch, drop it in the preheated water oven at the correct temperature and go do something else for an hour.  It's totally hands off and it won't scorch, clump, or curdle as it would on the stovetop. Making ice-cream becomes a whole easier process with the SousVide Supreme, as the most difficult part of home-made ice-cream is the custard base.
This month I decided to make a gelato. Gelato is an Italian style ice-cream, with a slightly softer consistency and less fat than regular ice-cream. I chose to make a really light and refreshing mint-chip gelato. There is no cream in this gelato recipe, so it's a little easier on the waist than regular ice-cream. As it's made with fresh mint, it has a delicious, intense mint flavor that you won't find in any store bought mint chip ice-cream.
This mint chip gelato was a huge success; it's so cooling and refreshing on a hot summer's day. The mint contrasts wonderfully with the dark chocolate chips. It doesn't have that fake green coloring you find in store bought mint chip ice-creams and has more of a natural pale green color. This gelato also works well as a dessert on its own, or served turned into a Mint Decadence Dessert, made with chocolate cookies, whipped cream and crème de menthe. Once you taste this mint chip gelato, you will never eat regular mint chip ice-cream again.
Ingredients
2 cups ( 480 ml) milk
3/4 cup (15g) fresh mint (Moroccan mint is best, but chocolate mint would also be good)
7 tablespoons (105 g) sugar
3 egg yolks
1/2 teaspoon (2.5 ml) pure vanilla extract
3 ounces (85g) dark chocolate (you could use mini chocolate chips or white chocolate chips instead.
Method
Fill and preheat the SousVide Supreme to 185F/85C.
Rinse and dry the fresh mint, then put it into a large jug along with the milk, sugar and egg yolks.
Mix all the ingredients together using a hand whisk, or pulse in a food processor for a few seconds.
Pour this custard mixture into a small (quart /0.95 liter) zip-closure cooking pouch. Use the displacement method (Archimedes' principle) to remove the air and zip the seal closed.
Submerge the pouch in the water bath for one hour.
Remove the custard from the water bath and quick chill the pouch, submerged in ice water (half ice/half water) for an hour.
Once the custard has cooled, strain it through a sieve into a jug.
Transfer the jug to the refrigerator to chill for 8 hours or overnight.
Pour the custard into an ice cream maker and churn according to the manufacturer's instructions.
As the ice-cream is churning, put the container for the finished ice-cream into the freezer to chill.
If you are using dark chocolate, melt the chocolate in a microwave or in a small heat-proof bowl over a saucepan of boiling water on the stove.  If you prefer to use chocolate chips, you can just scatter them into the ice-cream once it's churned.
Take the chilled container out of the freezer and drizzle 2 tablespoons of the melted chocolate in lines and zigzags across the bottom of the container.
Them, scoop one third of the churned ice-cream into the container.
Next, drizzle some more of the melted chocolate over this, then scoop more ice-cream on top and finally drizzle the rest of the chocolate on top.
 Seal and then freeze for about 2 hours to get a good scoopable consistency.