Fresh Peach Ice Cream

Courtesy of SousVide Supreme Culinary Specialist, Sophie Makes about 1 quart (0.9 liters)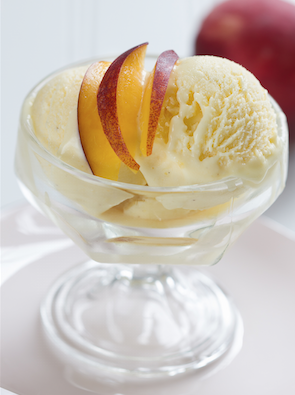 INGREDIENTS
1 cup ( 240 ml) milk
1 cup (240 ml) cream
7 tablespoons (105 g) sugar (for the custard)
6 egg yolks
1 teaspoon (5 ml) pure vanilla extract
1 pound (450 g) fresh peaches – about 4 medium sized peaches
½ cup (100g) sugar, additional (for preparing the peaches)
2 teaspoons (10 ml) fresh lemon juice
For serving
Fresh peach slices, berries, or other toppings, if desired
DIRECTIONS
Fill and preheat the SousVide Supreme to 185F/85C.
Put the milk, sugar, eggs and vanilla into a food processor and blend for a few minutes, just until well combined. You want to mix the custard, but not over whip it. Add the cream and pulse to combine.
Divide the custard mixture between two small (quart /0.95 liter) zip-closure cooking pouches. (I prefer to divide the custard into two batches, as it is easier to work with.) Use the displacement method (Archimedes' principle) to remove the air and zip the seal closed.
Submerge the pouches in the water bath for one hour.
Remove the custard from the water bath and quick chill the pouches, submerged in ice water (half ice/half water) for an hour.
Transfer to the refrigerator to chill for 8 hours or overnight.
Meanwhile, peel the peaches. (You can blanch 30 seconds in boiling water and dunk in an ice bath for 1 minute, if desired, to make peeling easier.)
Remove and discard the stones and mash the peaches with a fork.
Add the sugar and lemon juice to the peaches, stir to combine and refrigerate until you are ready to use it.
Once the custard has chilled overnight, strain it through a sieve into a large bowl.
Strain the juice from the peach mixture into the custard and mix together. Reserve the mashed peaches.
Pour the custard into an ice cream maker and churn according to the manufacturer's instructions for about 5 minutes, then pour in the mashed peaches and continue to churn, until frozen.
Transfer the ice cream to a freezer-safe container with a lid and pop into the freezer for at least 2 hours if you want a firmer, more scoopable ice cream.
To serve, scoop the ice cream into dishes and garnish with fresh peach slices, berries, or your favorite toppings.
---