Salmon with Caramelized Lemon Chili Maple Syrup Glaze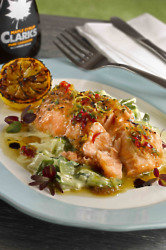 Courtesy of Clarks Maple Syrup, as featured in Female First
Serves: 4
INGREDIENTS
 4 (2 ½ ounce/60g portions) fresh salmon fillet, scaled
1 ½ tablespoons (25g) spiced sea salt
1 ½ tablespoons (20g) castor sugar
1 2/3 cups (250g) leeks chopped
3 tablespoons plus 1 teaspoon (50ml) double cream
4 tablespoons (10g) freshly chopped curly parsley
1 small red chili
1 lemon, finely zested
4 ounces (150g) maple syrup
2 lemons, halved and caramelized, for garnish if desired
DIRECTIONS
Combine the sea salt and sugar and generously season the fish fillets; cover and refrigerate to marinate for 2 hours
Fill and preheat the SousVide Supreme water oven to 115F/46C
Lightly rinse the fillets and pat dry; put them into cooking pouches and vacuum seal with gentle suction.
Submerge in the water bath to cook for 45 minutes.
Meanwhile, on the stovetop, bring a pan of water to the boil and add the washed chopped leeks, add a pinch of salt and boil for 2 to 3 minutes.
Drain the leeks, immediately refresh in cold running water, drain well again, and squeeze the water out so the leeks are very dry and bright green. Set aside.
In a separate pan, boil the cream until it thickens slightly, add the leeks and warm through, season with salt and cracked black pepper, keep warm
In a small saucepan heat the maple syrup until it caramelizes slightly, remove from the heat and keep warm.
Cut the chili in half lengthwise and remove the stem and seeds; chop the flesh very finely and add it and the lemon zest to the maple syrup. Stir in the chopped parsley and some cracked black pepper.
To serve
Remove the salmon from the water bath and take it from the pouch; pat dry.
Brush the surface with the caramelized maple syrup.
Put the creamed leeks onto the serving plate and place the salmon fillet on the leeks.
Finish with a drizzle of the caramelized lemon-chili-maple syrup.
Note: A nice touch is to serve with a caramelized lemon half, to do this cut a lemon in half and place cut side down in a non-stick frying pan and cook until the natural sugars in the lemon turn the surface a nice golden brown.