Crème Brûlée Ice Cream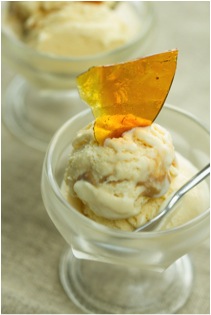 Courtesy of Staff Blogger, Sophie
INGREDIENTS
For the custard
1 cup plus 1 tablespoon ( 252 ml) milk
1 cup plus 1 tablespoon (252 ml) cream
7 tablespoons (105 g) sugar
1 teaspoon (5 ml) pure vanilla extract
6 egg yolks
3 tablespoons (45 ml) Dulce de Leche, divided use
For the sugar brûlée shards
1 cup (192g) granulated sugar
INSTRUCTIONS
Fill and preheat the SousVide Supreme to 185F/85C.
Put the milk, sugar, eggs and vanilla into a food processor and blend for a few minutes, just until well combined. You want to mix the custard, but not over whip it. Add the cream and pulse to combine.
Divide the custard mixture between two small (quart /0.95 liter) zip-closure cooking pouches. (It is better to divide the custard into two batches, as it is a large amount of liquid and cooks better in two pouches.) Use the displacement method (Archimedes' principle) to remove the air and zip the seal closed.
Submerge the pouches in the water bath and cook for one hour.
Remove the custard from the water bath and quick chill the pouches, submerged in ice water (half ice/half water) for an hour. Transfer to the refrigerator to chill for 8 hours or overnight.
Meanwhile, prepare the sugar brûlée.

 Put half of the sugar into a frying pan over a low heat. As soon as it starts to color and caramelize, add the rest of the sugar. (Add the sugar in two batches, as it prevents the sugar from burning too quickly.)
When all the sugar is golden and caramelized, pour the hot molten sugar syrup in a thin, even layer onto a sheet of tin foil or parchment paper. Set aside to cool completely.
Once the brûlée has fully cooled and hardened, break it into large shards using your fingers.

When ready to churn, pour the chilled custard base into a food processor and add 1 tablespoon (15 ml) of the dulce de leche and mix for a few seconds until just combined.
Pour the custard into an ice cream maker and churn according to the manufacturer's instructions.
Once the ice cream has been churned, fold another 2 tablespoons (30 ml) of the dulce de leche into the ice cream and gently mix it through to create swirls of caramel.
Transfer the ice cream to a freezer-safe container with a lid and pop into the freezer for at least 2 hours.
To serve, scoop the ice cream into dishes and garnish with sugar brûlée shards.