Part 1: Weeknight Short Ribs
We love short ribs!  They are versatile and can be eaten whole or flaked apart and folded into sauces, stuffed into crepes, tortillas, pasta or baked into puff pastry pot pies.
Autumn is the time of year that I find myself braising most meals. Braising typically involves checking the simmering pot on the traditional stovetop or peeking into a hot oven and monitoring liquids…not any longer!  SousVide Supreme adds a fun new method of braising to the kitchen.  A method that frees up your time and allows you to walk away and forget about it until it's time to eat.  Try sous vide style braising on a weekday.  Nothing is simpler than our weekday short ribs from which you can create three delicious and easy meals.
If you work Monday-Friday, for instance, then simply toss these ribs into your SousVide Supreme on Saturday night and when you get home from work on Monday night, voila!  You have your braised short ribs and all you have to do is serve them with your favorite vegetables and/or salad.  We like to serve ours over To Die For Potatoes a la Sous Vide or Boursin Mashed Potatoes with a sprinkling of sautéed mushrooms, but a quick pot of buttered noodles will even do in a pinch!
After your dinner, flake apart the remaining rib meat and store in an airtight container in the refrigerator for later in the week.  Tuesday night make Part 2: Madeline's Short Rib Tacos and Wednesday night try Part 3: Madeline's Short Rib Stew.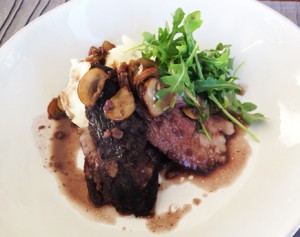 Madeline's Short Ribs
Serves 4 (with leftovers for Part 2 & Part 3)
INGREDIENTS
12 short ribs
Sea salt
Freshly ground black pepper
12 thyme sprigs
6 large garlic cloves, peeled and halved
1 cup (240 ml) dry red wine
Optional Garnishes:
Arugula tossed with extra virgin olive oil and sea salt
Sautéed Mushrooms
DIRECTIONS
Fill and preheat the SousVide Supreme to 156F/69C.
Season the short ribs with sea salt and freshly ground black pepper and put into cooking pouches with thyme sprigs, garlic cloves, creating a single layer, and vacuum seal.
Submerge the pouches in the water oven and cook for 48 hours.
Once cooking is complete, remove 4 of the short ribs for this meal from the cooking pouches and set aside.   To make additional recipes flake the remaining meat from the 8 ribs, once cool store in an airtight container in the refrigerator. Pour the cooking liquid into a degreaser and discard the fat.  Use half of the cooking liquid for this recipe and store the remaining liquid in an airtight container in the refrigerator for additional recipes.
In a small saucepan combine the short rib cooking juices with the red wine.  On a stovetop reduce this liquid by half over medium-high heat.
If desired, sear the ribs for a minute in a hot skillet to caramelize the surface.
Serve over To Die For Potatoes a la Sous Vide or Boursin Mashed Potatoes.
Drizzle with wine reduction and garnish with your favorite greens or sautéed mushrooms.
Part 2: Taco Night
Turn these succulent short ribs into an easy weekday meal of tacos within minutes creating a Mexican feast.  If you love hot and spicy food, then this recipe can definitely be amped up with your favorite chilies or tamed down, if spice really isn't your thing!
At my house we like to toss in all sorts of chilies when we rewarm the meat; both fresh and dried do the trick!  A pinch of New Mexico chile and a few slices of fresh serrano pepper adds a little heat.  For a more nuanced flavor, try adding a few pinches of ancho chile.  The smoked paprika lends a delicious depth of smoky spice, but if you are even more of a smoked pepper lover, try adding chipotle to the mix.  One of our local taquerias sprinkles sesame seeds on top of their tacos. Not typical for a taco, but sesame seeds are definitely used in Mexican cooking, in particular mole! I know this doesn't seem very authentic, but I love the crunch!  I take it a step further by toasting the seeds, which adds a delightful nutty crunch and creates a tasty parallel to the crisp cabbage and slow cooked meat. I don't care for cheese on my tacos, but if you do, try Mexican Cotija; salty and a bit tart this cheese pairs well with the richness of the beef.   These tacos can be dolled up or dressed down, depending on your mood.  For a simpler version, serve with your favorite salsa and a few slices of avocado.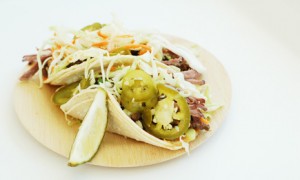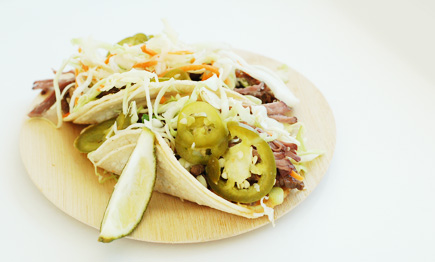 Madeline's Short Rib Tacos
Serves 4
INGREDIENTS
½ small green cabbage, shredded
2 carrots, peeled and julienned
4 green onions, thinly sliced
1 small handful, cilantro
3 tablespoons (45 ml) canola oil
2-4 pinches sea salt
¼ cup (40 g) sesame seeds, toasted (optional)
1 teaspoon (5 ml) ground cumin
½ teaspoon (2.5 ml) ground coriander
½ teaspoon (2.5 ml) ground smoked paprika
2-4 Madeline's Short Ribs, flaked from bone and pulled apart
16 small-medium corn tortillas
1 cup (120 ml) sour cream
2-4 tablespoons (30-60 ml) of your favorite hot sauce
1 lemon, zest
Optional Garnishes:  Pickled Jalapenos, lime wedges, Cotija cheese, avocado slices
DIRECTIONS
In a large bowl toss together the cabbage, carrots, green onions, cilantro and optional toasted sesame seeds.
In a small bowl whisk together the sour cream, hot sauce and lemon zest, season with salt, set aside.
Heat a large skillet over medium-high heat and, once warm, add the canola oil, cumin, coriander and smoked paprika.  Let the spices cook in the oil for about 30 seconds-1 minute then add the flaked meat from Madeline's Sous Vide Short Ribs.  Let cook until warmed through, about 3 minutes.  Keep warm until ready to serve.
Heat a large cast iron skillet over medium-high heat and warm the tortillas.  Alternatively, heat quickly, 15-20 seconds per side under the broiler or over a gas burner; it's okay if you end up with a few blackened blisters.
Assemble tacos by stacking two corn tortillas on top of each other.  Slather one side with spicy sour cream mixture and fill with flaked short rib meat, cabbage mixture and garnish of your choosing.  Fold in half and serve while warm.
Part 3: Weeknight Short Rib Stew
This stew is hearty enough on its own, but we love to serve it over Sous Vide Polenta, and it's equally delicious with a slice of artisan bread slathered with butter.  Garnish it with your favorite herbs, mushrooms, or baby salad greens.
This stew can be adapted to your taste, as it works well with any root vegetables; add parsnips, rutabagas or a mixture of your favorite potatoes.  Cut all of your vegetables to about the same size, so that they cook evenly.  I like to chop everything into large bite-size pieces.  Add any of your favorite herbs, fresh or dried, and if you feel like continuing on with the spice from the tacos, add a few chilies.
Since our house is gluten-free, I thicken this stew with butter as opposed to thickening with a wheat based roux or a cornstarch slurry.  Adding cold butter to finish a dish is a classic French cooking technique, called Monter au beurre, which translates to "build with butter."  The trick is to make sure that your butter is very cold and that the liquid is simmering gently.  Lastly, you must be swift with your stirring; the quick stirring in addition to the cold butter will melt the butter without breaking the sauce (splitting the fat from the liquid).  Taking all of the proper measures you'll be pleased with your end result of an unctuous and silky sauce; when folded into the remaining stew this sauce adds the proper viscosity of a stew that has simmered for hours on a traditional stove-top.
We always end up with leftovers and typically  have plenty of stew for the next night.  This stew also freezes well.  If you don't end up with any leftovers for the rest of week, no worries, check out our vegetable series, Sous Vide Vegetables – 3 Recipes.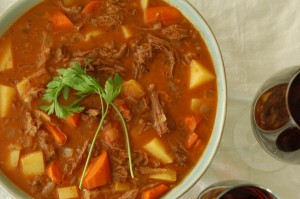 Madeline's Short Rib Stew
Serves 4-6
INGREDIENTS
2 tablespoons (30 ml) extra virgin olive oil
8 tablespoons (113.5 g) cold butter, divided
2 large onions, chopped
4 large cloves garlic, minced
1 quart (946 ml) beef stock
1 1/2 pounds (680 g) red or Yukon gold potatoes, cut into large chunks
3 large carrots, peeled and cut into large chunks
14.5 ounces (411 g) crushed stewed tomatoes
1 sprig fresh rosemary
6 sprigs fresh thyme
2 small bay leaves
1 cup (237 ml) cooking juice from Madeline's Short Ribs
1 cup (237 ml) dry red wine
4-6 Madeline's Sous Vide Short Ribs, flaked and pulled apart
Sea salt and freshly ground black pepper, to taste
Garnish: Italian flat leaf parsley
DIRECTIONS
Fill and preheat SousVide Supreme to 185F/85C.
Using a traditional stovetop, heat a large skillet over medium heat.  Add olive oil and 2 tablespoons (30 ml) butter.
Once the butter is melted add the onions and cook until translucent, about 8 minutes.
Add the garlic and cook for 2-3 more minutes until soft being careful not to brown.
 Put the remaining vegetables and herbs into cooking zip pouches and evenly divide the cooked onions and garlic between them. Pour in the beef stock and stewed tomatoes, toss in the herbs, add the reserved cooking juice, and season with salt and pepper.
Using Archimedes' Principle seal the zip pouches.
Put the pouches into the water oven and set the timer for 2-3 hours.
Meanwhile, in a medium saucepan over medium-high heat, reduce the red wine by half.  Set aside.
After 2-3 hours have passed, ladle the cooked vegetables into a serving bowl along with at least one quarter of the cooking liquid.  Reserve the remaining half to three-quarters of cooking liquid.
 Add the remaining cooking liquid to the wine mixture and reduce by half, until slightly thickened.  Reduce the heat to a gentle simmer and stir in the remaining butter, one tablespoon at a time.  Toss in the flaked short rib meat and warm through.
 Remove and discard any of the herb stalks and bay leaves.
Pour the reduced meaty liquid over the stew.
Serve the stew over Sous Vide Polenta and garnish with chopped parsley.
---