Mixed Vegetables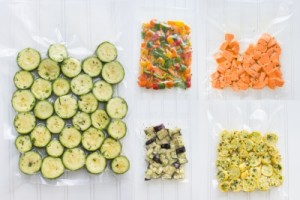 Courtesy of SousVide Supreme Culinary Specialist, Sophie
Serves 4
INGREDIENTS
1½ pounds (24 ounces/680g) mixed vegetables (your choice of yellow squash zucchini/courgetttes, eggplant/aubergine, yellow, red and green peppers, sweet potato)
2 tablespoons (30ml) olive oil
2 tablespoons (30ml) fresh herbs finely chopped (parsley, thyme and chives)
Salt and pepper, to taste
DIRECTIONS
 Fill and preheat the SousVide Supreme water oven to 183F/83C.
Wash, peel, and cut the vegetables into 1-inch (2.5cm) pieces. Put each set of chopped vegetables into its own cooking pouch. Divide the oil and fresh herbs among the cooking pouches and add salt and pepper before vacuum sealing each pouch.
Arrange the pouches in a cooking rack in the water oven. Cook the squash, zucchini, eggplant, and peppers for 30-40 minutes, but leave the sweet potatoes in for about 60- 90 minutes.
Once cooked, you can serve immediately or quick chill the vegetables and reserve for use at a later.  You can use them to make the following delicious recipes: Couscous with Mediterranean Vegetables, Vegetable Flatbread Wraps, or Hearty Vegetable Soup.