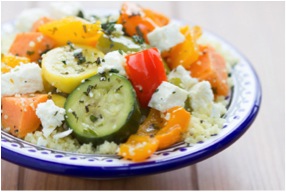 Courtesy of SousVide Supreme Culinary Specialist, Sophie
Serves 4 as a starter or side or 2 as an entree
INGREDIENTS
1 cup (173 g) dried couscous
1 cup (240 ml) just-boiled water
1 tablespoon (15ml) white wine vinegar
1 clove garlic, crushed
3 tablespoons (45ml) olive oil
1 recipe sous vide cooked Mixed Vegetables
Salt and pepper, to taste
1 cup (110g) crumbled feta
1 tablespoon (15ml) chopped mint
DIRECTIONS
Fill and preheat the SousVide Supreme water oven to 183F/83C.
Put the couscous into a small (quart/0.9 liter) zip-closure cooking pouch.
Pour the just-boiled water into the pouch and use the displacement method to remove the air and zip the pouch closed.
Put the pouch into the water bath and leave to cook for 8 minutes.
Once cooked, remove the pouch and leave to sit for a further 2 minutes. (If you prefer, you can also cook the couscous by the traditional stovetop method.)
Meanwhile, to make the dressing:

put the vinegar, crushed garlic, and olive oil into a bowl and mix together with a small hand whisk.
Season with salt and pepper, to taste.

Open the zip pouch and use a fork to fluff the grains of couscous.
Pour the couscous into a large serving dish, pour the dressing over the couscous, and mix well with a fork.
Spoon the sous vide vegetables over the couscous and sprinkle the chopped mint and crumbled feta on top.
Serve as a starter, light supper, or side dish. This is also a great meal for a lunch box.
Share This Recipe with Friends!