Polenta Sous Vide

Courtesy of SousVide Supreme Culinary Specialist, Madeline Fiore
Serves 4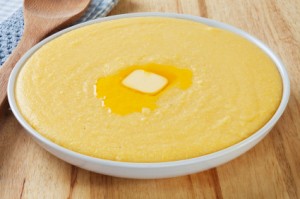 INGREDIENTS
1 cup (210 g) coarse ground polenta
6 tablespoons (88 g) butter, divided
4 cups (946 ml) whole milk
8 ounces (227g) Parmesan, grated
Sea salt and freshly ground black pepper to taste
DIRECTIONS
 Fill and preheat the SousVide Supreme water bath to 190F/87C.
Put the polenta, butter and milk into a cooking pouch and seal using the water displacement method (Archimedes' Principle).
Submerge the pouch and cook for 2 to 2 ½ hours.
Remove the pouch from the water oven and pour immediately into a large bowl with the Parmesan cheese. Toss together and season with salt and pepper.
If not ready to use immediately, keep warm in the pouch in the water oven.
Alternatively, you can pour the polenta into a greased loaf pan, refrigerate until firm, and slice. Then reheat, by frying the slices in butter on a hot skillet.