Jansson's Frestelse (Swedish Potato Casserole)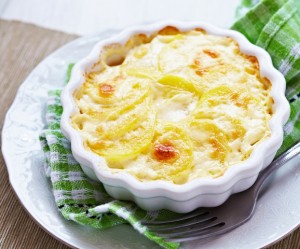 Serves 4 to 6
While it's not exactly certain who Jansson was (some say an opera singer from the 19th C and others a film character) the English translation of the name of this Swedish is "Jansson's temptation." Whoever he was, this creamy potato dish, particularly popular at Christmas, could surely tempt anyone at the holidays or any time.
INGREDIENTS
2 pounds (0.9 kg) potatoes, peeled and cut into thin matchsticks or shredded
2 onions, peeled and thinly sliced
salt and white pepper to taste
4 tablespoons (56 g) unsalted butter, plus some for buttering the casserole
3 ½ ounces (100 g) Swedish sprats in oil (or rinsed anchovies), chopped
2 cups (480 ml) heavy cream
½ cup (60 g) bread crumbs, toasted or packaged
DIRECTIONS
Fill and preheat the SousVide Supreme to 185F/85C.
Season the potatoes with the salt and pepper, put them into a cooking pouch, and vacuum seal.
Season the onions with the salt and pepper, put them into a cooking pouch, and vacuum seal.
Submerge the pouches in the water oven to cook for 45 minutes to 1 hour.
Remove the pouches and finish. (You can prepare to this point up to 2 or 3 days in advance. If not proceeding with the recipe right away, quick chill the pouches, submerged in ice water (half ice half water) for 15 to 20 minutes and refrigerate.)
To finish, preheat the traditional oven to 375F/190C.
Generously grease a casserole dish with butter. Spread about one-third of the cooked potatoes evenly over the bottom of the dish, followed by half the onions and half the sprats. Dot with butter and pour on half cream. Repeat with another third of the potatoes, the remaining onions and sprats, and dot with butter and the remaining cream. Top with the remaining potatoes. Sprinkle the breadcrumbs over the top and dot with butter.
Put the casserole onto a baking sheet or foil (to catch liquid) and into the oven to heat through and brown, about 25 to 30 minutes.
Serve.