Cranberry Sauce

Makes about 1 ½ cups
Ingredients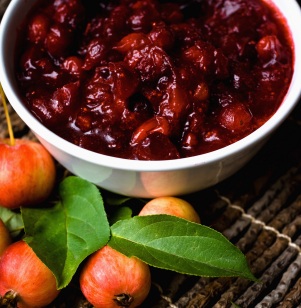 12 ounces (340 g) fresh cranberries
1 cup granulated sugar
1 orange for zest only
Instructions
Fill and preheat the SousVide Supreme to 183F/84C.
Put all ingredients into a food-grade cooking pouch and vacuum seal.
Submerge in the water oven and cook for 1 hour.
Remove the pouch from the water bath and gently smash the berries through the pouch to make the chunky sauce.
Quick chill the pouch, submerged in an ice water bath (half ice/half water) for 20 minutes and refrigerate up to several days.
Serve chilled.