Chicken with Sun Dried Tomato Vinaigrette

As the weather warms up, and the sun shines longer, our taste buds start craving foods inspired by the outdoors. This Sous Vide Chicken Recipe from Serious Eats is a perfect recipe to ring in the change in seasons with your SousVide Supreme!  See Recipe on Serious Eats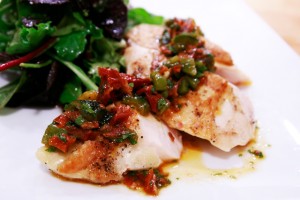 INGREDIENTS
4 skin-on chicken breasts, 6 to 8 ounces each
Kosher salt and freshly cracked black pepper
1 poblano pepper
1/2 cup oil-packed sun-dried tomatoes, drained and chopped into 1/4-inch pieces, 2 tablespoons of oil reserved
1 teaspoon honey
1/2 teaspoon soy sauce
1/2 teaspoon hot sauce (optional)
2 teaspoons fresh lemon juice from 1 lemon
1 tablespoon minced fresh mint leaves
1 medium shallot, finely minced (about 1 medium)
1 tablespoon canola or vegetable oil
INSTRUCTIONS
Preheat water oven to 140°F.
Season chicken generously with salt and pepper. Place in sous vide cooking pouches and seal.
Cook in water oven for at least 1 hour 35 minutes and up to 10 hours. Meanwhile, make the vinaigrette.
While chicken is cooking, set burner to high heat and place poblano pepper directly on flame. Cook until completely blackened, turning as needed with tongs, about 5 minutes total.
Place poblano pepper in covered container or paper bag until skin is loosened, about 3 minutes.
Carefully peel skin under cool running water. Remove stem, ribs, and seeds if desired (see note). Cut into 1/4-inch dice and combine with sun-dried tomatoes and their oil, honey, soy sauce, hot sauce, lemon juice, mint leaves, and shallot. Whisk to combine.
When ready to eat, add oil to heavy-bottomed non-stick or cast iron skillet large enough to hold chicken comfortably in single layer. Heat over medium-high heat until oil shimmers.
Remove chicken from bag and pat dry on paper towels.
Carefully add chicken to hot oil skin-side down and cook until brown and crisp, about 2 minutes.
Transfer to large plate, top with vinaigrette, and serve.