Chicken Curry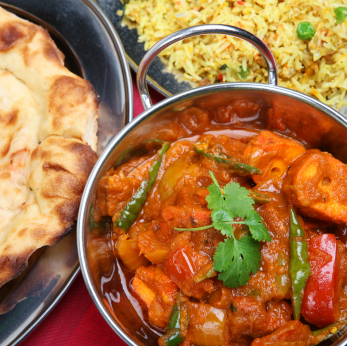 Courtesy of Tony Fong
Serves 2
INGREDIENTS
2 chicken breasts (on bone, with skin*)
Coarse salt to taste
White pepper to taste
2 tablespoons (30 ml) vegetable oil (divided use)
4 to 5 coins (slices) fresh ginger, peeled (divided use)
2 cups (480 ml) prepared curry or masala sauce
2 ripe plum tomatoes, quartered
5 or 6 sprigs fresh cilantro, chopped
Cooked basmati rice and naan (for serving)
INSTRUCTIONS
Preheat the SousVide Supreme to 140F/60C.
Remove skin from breasts and de-bone them; reserve the skin and bones.
Season the chicken fillets with coarse salt and white pepper on both sides. (Season the reserved skin and bones as well.)
Put the breast fillets into a small (quart/liter) cooking pouch, along with a tablespoon of the oil and two of the ginger coins, and vacuum seal.
Submerge the pouch in the water oven and cook for at least 45 minutes (or up to 2 hours.)
Meanwhile, in a saucepan over medium heat, brown the chicken skin and bones in a tablespoon of oil, about 5 to 10 minutes.
Add the curry sauce and simmer for another 15 minutes.
Julienne the remaining coins of ginger, cover with a damp paper towel, and set aside.
When the chicken fillets are done, remove them from the water oven, let rest briefly.
Open the pouch and drain any accumulated juices into the curry sauce; stir to combine and simmer for 2 to 5 more minutes.
Cut the breast fillets into half-inch (1.3 cm) pieces and center them on a warm serving plate and surround the chicken with the quartered tomatoes.
Strain the curry sauce through a mesh strainer over the chicken; discard skin and bones.
Garnish the plate with the julienne of ginger and the minced cilantro and serve with cooked basmati rice and/or naan.
*You can use boneless, skinless breasts, if desired and omit browning the skin and bones in step 6, though you'll miss some of the deep, flavorful, chicken-y goodness.