Chicken with 40 Cloves of Garlic

Chicken with 40 Cloves of Garlic
Serves 4
Prepared sous vide, this recipe works better with the dark meat of the chicken, since the garlic will not become as toasty and sweet at the lower cooking temperature more desirable for cooking juicy breast meat.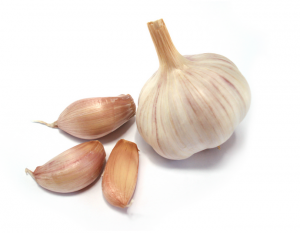 INGREDIENTS
8 chicken leg quarters
Salt and pepper to taste
1 cup olive oil
4 sprigs fresh thyme
2 sprigs fresh rosemary
40 cloves of garlic, peeled
INSTRUCTIONS
Preheat the SousVide Supreme water oven to 176F/80C.
Lightly sprinkle the leg quarters with salt and pepper and put two into a small (quart/liter) cooking pouch.
Add ¼ cup olive oil, a sprig of thyme, half a sprig of rosemary, and 10 cloves of garlic. Vacuum seal the pouch (stopping the suction by depressing 'seal only' before the oil reaches the vacuum sealer edge) and repeat with the other leg quarters.
Submerge the pouches in the water oven and cook for 6 to 8 hours.
Preheat the (traditional) oven broiler to high.
Remove the leg quarters from the pouches, put them onto a broiler pan, and cook for 4 to 5 minutes, until the skin is golden brown.
Serve immediately.