Duck Breast with Hot Pepper Soy Glaze

Serves 6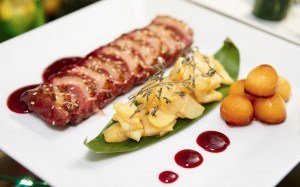 INGREDIENTS
6 duck breasts
Salt to taste
Black pepper to taste
1/4 cup (60 ml) soy sauce
1/4 cup (60 ml) chicken broth
1/2 cup (120 ml) hot pepper jelly
INSTRUCTIONS
Preheat SousVide Supreme to 129F/54C.
Season the duck breast on both sides with salt and pepper.
Put 2 breasts into each of three quart/liter cooking pouches and vacuum/seal.
Load pouches into the Universal Pouch Rack, submerge in the water oven, and cook for 2.5 hours or up to as much as 4 hours.
Remove pouches and quick chill submerge them in ice water for 15 to 20 minutes.
Remove breasts from the pouches and pat them dry. (Save accumulated pouch juices, sealed in a zip freezer bag, for future use.)
Score breast skin in a crosshatch pattern and lightly salt them.
In a heavy skillet, over medium-high heat, sear the breasts, skin side down until the skin is golden and crisp, about 2 minutes.
Remove the breasts to a warm plate.
Pour off all but 1 tablespoon of accumulated duck fat from the pan. (Save the fat along with the pouch juices in the zip closure bag and freeze for future use.)
Deglaze the pan with the soy sauce and broth, scraping up any brown bits.
Stir in the pepper jelly and let it melt.
Return the breasts to the pan, skin side down, to coat with the glaze.
Slice breasts and serve with your favorite sides.