Fudge Brownies

Courtesy of Chef Richard Blais
Serves: 4
Time 1 ½ hours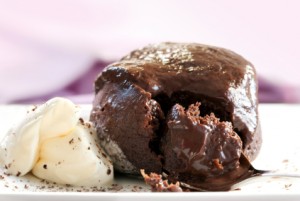 INGREDIENTS
2 egg yolks
1/2  cup (125 ml) butter
1 cup (250 ml) sugar
1 teaspoon (5 ml) pure vanilla extract
1/3 cup (75 ml) unsweetened cocoa powder
1/2  cup (125 ml) all-purpose flour
1/4 teaspoon (1 ml) salt
1/4 teaspoon (1 ml) baking powder
Sweetened whipped cream or ice cream , if desired, for serving
INSTRUCTIONS
Raise the perforated bottom grill by placing it atop a non-rusting roasting rack.
Fill the ramekins you will use to cook your brownies with water and position them on the perforated grill.
Fill the water oven with just enough water to come within 1/4- to 1/2-inch (.635 to 1.27 cm) of the top of the ramekin.
Set the SousVide Supreme to 195F/90C.
Remove ramekins, empty, and dry them well. Liberally butter the insides of the ramekins.
In a bowl, cream the butter and sugar until fluffy.
Beat in the egg yolks and vanilla.
In a separate bowl, sift together the flour, cocoa powder, salt and baking powder.
Add the dry ingredients to the egg mixture, mixing just until completely moistened.
Fill each ramekin not quite full with the brownie mixture.  Cover each ramekin tightly with aluminum foil to prevent condensation from the lid from dripping into them.
Carefully place the ramekins into the water bath and cover with the lid.
Cook for 90 minutes, until set.
Remove the rack and ramekins from the water bath to the inverted lid until cool enough to handle.
Serve warm with a dollop of whipped cream or a scoop of ice cream or refrigerate until slightly firm and fudge-like.