Leg of Lamb and Brussels Sprouts

Courtesy of Sharone Hakman (MasterChef tv star)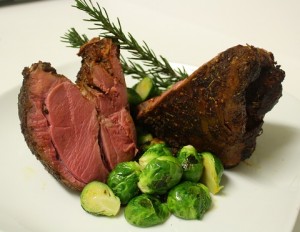 INGREDIENTS
For the lamb
1 boneless leg of lamb
2 tablespoons (30 ml) extra virgin olive oil
5-7 garlic cloves, peeled
Salt to taste
Pepper to taste
4 sprigs fresh rosemary, finely chopped
2 teaspoons (10 g) smoked paprika
1 teaspoon (5 g) coriander
For the buttered brussels sprouts
2 pounds (0.91 kg) Brussels' sprouts, washed, trimmed, and halved
4 tablespoons (60 g) cold butter
Salt
Pepper
1 lemon, for juice
INSTRUCTIONS
For the lamb
Fill and pre-heat the SousVide Supreme to 131F/55C. 

Season the leg of lamb with salt and pepper to taste.

Put the seasoned lamb into a large (gallon/3.8 liter) cooking pouch with the garlic, one sprig of rosemary, and the olive oil.  Seal, refrigerate, allow to marinate for at least 2 hours.

Submerge in the water oven and cook for 48 hours.

Remove from the pouch, season with the rosemary, paprika, and coriander, and sear all the way around on high heat to form nice crust.  Let rest for 10 minutes.

Slice against the grain and enjoy!
For the buttered brussels sprouts
Fill and preheat the SousVide Supreme to 185F/85C
Toss all ingredients, except for lemon juice, together in a large bow and divide equally into 2 large (gallon/3.8 liter) cooking pouches and seal.

Cook 20 minutes for al dente or 1 hour for a softer texture.

Remove from the pouch, squeeze lemon juice onto sprouts, and enjoy!!