Lemon Chicken Sous Vide
Adapted from The 6 Week Cure for the Middle Aged Middle, Eades and Eades (Crown 2009)
Serves 4 (Multiplies easily)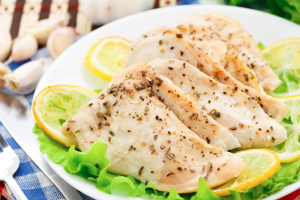 INGREDIENTS
1 small onion, peeled, halved, and sliced
1 clove garlic, peeled and minced
2 tablespoons (30 ml) olive oil, divided use
8 chicken thighs, skin on or boneless, skinless if desired
Salt and pepper to taste
1 large lemon, for zest and juice
1 ½ teaspoons (7.5 ml) minced fresh thyme or 3/4 teaspoon dried
1 ½ teaspoons (7.5 ml) minced fresh marjoram or 3/4 teaspoon dried
1 ½ teaspoons (7.5 ml) minced fresh flat leaf parsley or 3/4 teaspoon dried parsley
1 tablespoon (15 ml) clarified butter, melted
INSTRUCTIONS
Fill and preheat the SousVide Supreme to 176F/80C.
In a skillet over medium heat, warm 1 tablespoon of the olive oil and sauté the onion and garlic until limp and fragrant, about 3 or 4 minutes.  Do not allow them to brown.
In a small bowl, combine the herbs and lemon zest and juice with the olive oil and spread over both sides of the thighs.
Put four thighs in a single layer into a small (quart/liter) cooking pouch, add half the onions to the pouch and vacuum seal.  Repeat with the other four thighs.
Vacuum seal the pouches and submerge them in the water oven to cook for at least 2 hours, but up to 6 is fine.
Remove from the pouches and pat dry.
Heat a skillet large enough to hold the thighs over medium high heat until piping hot.
Pour the melted butter into the skillet and sear the thighs, skin side down, for about a minute or two, until golden brown; serve immediately.
Share This Recipe with Friends!