Olive Oil Poached Salmon with Roasted Ruby Beets

Courtesy of Sur La Table
Serves 4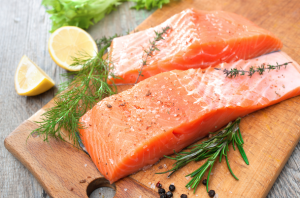 INGREDIENTS
4  salmon fillets, about 6 ounces (170 g) each, skinned
8 tablespoons (120 ml) extra-virgin olive oil, divided and chilled
8 sprigs fresh dill
4 tablespoons (60 ml) dry white wine, divided
Salt to taste
Pepper to taste
For the beets
2 medium red beets, well-scrubbed and trimmed
3 tablespoons (45 ml) butter
2 teaspoons (10 ml) sugar
1/2 teaspoon (2 ml) salt
1 teaspoon (5 ml) hazelnut oil
For the Crème Fraiche
3/4 Cup (175 ml) crème fraiche
1/2 cucumber, seeded and peeled
1 tablespoon (15 ml) fresh dill, finely chopped
INSTRUCTIONS
Put 2 tablespoons of olive oil into each of four small cooking pouches and chill in the refrigerator or freezer for at least 30 minutes to thicken.
Preheat the SousVide Supreme to 130F/54.4C.
Preheat traditional oven to 400 F/200C.
Add butter, sugar and salt to the beets, wrap in aluminum foil, and roast in the traditional oven until tender about 1-1/2 hours.
Remove beets from oven, allow them to cool, and wipe skin off with towel.
Dice beets to about 1/4 inch (0.5 cm) toss with hazelnut oil and set aside.
Lightly season salmon with salt and pepper and seal each fillet individually along with 2 dill sprigs and 1 tablespoon of the white wine in the pouches in which you have chilled the olive oil.
Cook salmon in the SousVide Supreme for 10 to12 minutes.
Remove the pouches from water and let sit at room temp for 5 minutes.
Meanwhile, prepare the crème fraiche

grate cucumber into a small bowl
add crème fraiche and chopped dill and fold in
cover and refrigerate until ready to use.

Remove salmon from pouches; garnish with crème fraiche and beet cubes, and serve immediately.