Adapted from The 6 Week Cure for the Middle Aged Middle, Eades and Eades (Crown 2009)
Serves 2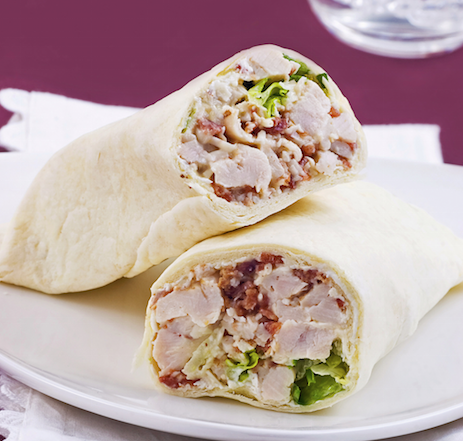 INGREDIENTS
4 ounces chicken tenders*
Olive oil
Salt and pepper to taste
1 cup (56 g) chopped romaine lettuce
2 tablespoons (30 ml) Caesar Dressing (commercially prepared or page 273 of 6WC)
4 wraps – large lettuce leaves (red leaf or Boston Bibb),Coconut Wraps ,or Low-Carb Tortillas
4 anchovy fillets (optional)
INSTRUCTIONS
Fill and preheat the SousVide Supreme water oven to 146F/63C.
Season the chicken lightly with salt and pepper and a drizzle of olive oil.
Put the seasoned chicken into a small (quart/liter) cooking pouch and vacuum seal.
Submerge in the water oven and cook for 45 minutes to 1 hour.
Remove and if not using right away, quick chill the pouch in an ice water bath (half ice/half water) for15 minutes and refrigerate.
Dice the chicken and put it into a salad bowl.  Add the romaine and dressing and toss to coat evenly.
Pile one-one fourth of the chicken mixture onto the center of each of the 4 wraps, top each with an anchovy fillet, and roll up burrito style.
*Leverage your time by making several batches of chicken tenders at one time for use in this or other recipes.
Share This Recipe with Friends!