Chicken Club Salad Wraps Sous Vide

Adapted from The 6 Week Cure for the Middle Aged Middle, Eades and Eades (Crown 2009)
Serves 2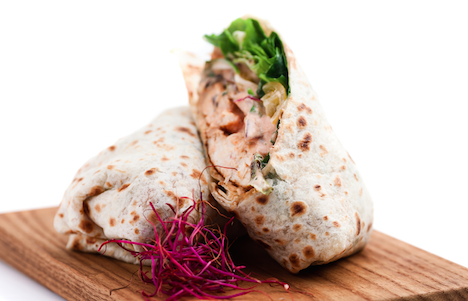 INGREDIENTS
4 ounces chicken tenders*
Olive oil
Salt and pepper to taste
4 strips bacon, cooked until crisp, drained, and crumbled
1 small tomato, diced
1 small ripe avocado, peeled, seeded, and diced
1 tablespoon (15 ml) fresh lime juice
2 thin slices red onion
1 cup (56 g) chopped romaine lettuce
4 wraps – large fresh lettuce leaves (red leaf or Boston Bibb), Coconut Wraps, or low-carb tortillas
1/4 cup (60 ml) your favorite vinaigrette
INSTRUCTIONS
Fill and preheat the SousVide Supreme water oven to 146F/63C.
Season the chicken lightly with salt and pepper and a drizzle of olive oil.
Put the seasoned chicken into a small (quart/liter) cooking pouch and vacuum seal.
Submerge in the water oven and cook for 45 minutes to 1 hour.
Remove and if not using right away, quick chill the pouch in an ice water bath (half ice/half water) for15 minutes and refrigerate.
Dice the chicken, bacon, tomato, avocado, onion, and romaine into a salad bowl; add the dressing and toss to coat.
Center one-fourth of the chicken salad mixture on each of the wraps and roll up, burrito style.