Spiced Whole Apples

Serves 4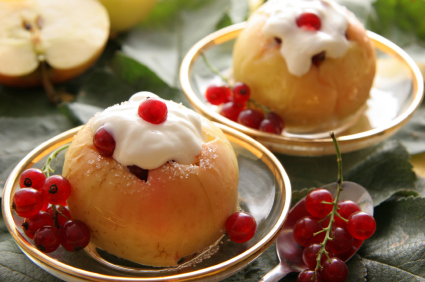 Time 1 ½ hours
INGREDIENTS
4 small tart apples, peeled and cored
4 tablespoons (60 g) unsalted butter, softened
1 lemon, juice and zest
1/2 teaspoon (2 g) salt
1/2 teaspoon (2 g) ground cinnamon
1/4 teaspoon (1 g) ground nutmeg
1 teaspoon (5 g) brown sugar
1 tablespoon (15 g) raisins
Garnishes (optional):
1/2 cup (125 ml) whipped cream, sweetened
fresh red currants
ground cinnamon
fresh mint leaves
caramel sauce
INSTRUCTIONS
Preheat the SousVide Supreme to 183°F/83°C .
Zest the lemon and reserve zest.  Juice the lemon over the apples.
In a small bowl, mix together the butter, lemon zest, salt, cinnamon, nutmeg, and brown sugar. Stir in the raisins.
Divide the butter mixture among the apples, packing it well into the center core area.
Put apples, 2 per pouch, into quart/liter sized cooking pouches and vacuum seal.
Put the pouches into the slots of the pouch rack and invert the rack in the SousVide Supreme water bath to hold them in place, beneath the water surface, during cooking.
Cook for 60 to 90 minutes. Carefully remove cooked apples from pouches.
Serve straight from the pouch or topped with a dollop of sweetened whipped cream, a sprig of fresh mint or currants, or a sprinkle of cinnamon.  Also delightful with a drizzle of caramel sauce.