Triple Threat Meatloaf Sous Vide

Adapted from The 6 Week Cure for the Middle Aged Middle, Eades and Eades (Crown 2009)
Serves 4 to 6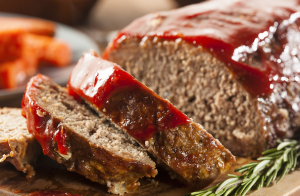 INGREDIENTS
2 tablespoons (30 ml) olive oil
½ medium yellow onion, peeled and diced
¼ yellow bell pepper, seeded and diced
¼ green bell pepper, seeded and diced
¼ red bell pepper, seeded and diced
2 large eggs
¼ cup (60 ml) heavy cream
1 tablespoon (15 ml) Worcestershire sauce
1 teaspoon (5 ml) sea salt
½ teaspoon (2.5 ml) ground black pepper
½ teaspoon (2.5 ml) paprika
¼ teaspoon (1.25 ml) garlic powder
Dash cayenne powder (Optional)
½ pound (225 g) ground sirloin
½ pound (225 g) ground pork
½ pound (225 g) ground lamb
INSTRUCTIONS
Fill and preheat the SousVide Supreme water oven to 140F/60C.
Heat the olive oil in a skillet over medium heat; add the onion and sauté until translucent.  Add the peppers and continue to cook, stirring occasionally, until they begin to soften, about 3 minutes.  Set aside to cool.
In a large mixing bowl, beat the eggs well.  Add the cream, onions and peppers, and all seasonings and stir to combine.
Add the ground meats and knead to mix well.
Divide the mixture evenly between two small (quart/liter) cooking pouches, pushing it into the bottom and forming a loaf about 2 inches (5 cm) thick across the width of the pouches. Roll the pouch around the formed loaf to compress it tightly.
Vacuum seal and submerge the pouches in the water oven and cook for at least 2 hours, but up to 6 hours will not affect the texture significantly.
Remove the meatloaves from the pouches, put them on a broiling pan, pat the surfaces dry, and sear the loaves under a hot broiler or with a kitchen torch.
Slice and serve.