Clover Club Cocktail & Raspberry Syrup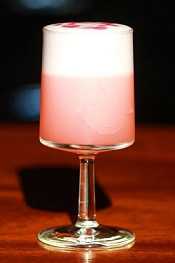 courtesy of Chef Brian McCracken and Chef Dana Tough of Tavern Law, Seattle, WA
Here's a recipe for a gorgeous retro 'flip' cocktail made using the SousVide Infused Raspberry Syrup (see recipe below), courtesy of the ingenious barkeeps at Tavern Law.
It's shaken, not stirred!
(makes one cocktail)
INGREDIENTS
For the cocktail
1-1/2 ounces (45 ml) gin or vodka
1 ounce (30 ml) lemon juice
1/2 ounce (15 ml) raspberry syrup
1 egg white (or equivalent in pasteurized egg whites)
1/2 cup (a handful) cracked ice cubes
For the infused raspberry syrup
2 pints (680 g) plump, fresh raspberries
4 cups (766 g) sugar
4 cups (960 ml) water
INSTRUCTIONS
For the cocktail
Pour all ingredients into a cocktail shaker.
Shake vigorously until frothy.
Strain into a cocktail glass and serve.
For the infused raspberry syrup
Preheat the SousVide Supreme to 135F/57C.
Put all ingredients in a zip-closure cooking pouch.

Lower the open pouch into the water oven slowly until the zip closure nears the surface; zip the seal and cook for 2 hours.

Remove pouch, let cool briefly, and quick chill, submerged in an ice water bath (half ice/half water) for 30 minutes.

Strain the infusion into a clean bottle and tightly cap.

Store in refrigerator for up two weeks.
Optional: add 2 ounces (60 ml) of vodka per quart (0.9 liter) of finished syrup to add a couple of weeks to shelf life.