Basic Sous Vide Chicken

From Episode 5 – Sous Vide Basics Cooking Video Series with Sharone Hakman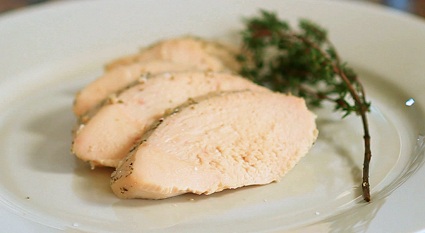 Serves 2
INGREDIENTS
2 (6 ounce/ 180 g each) boneless, skinless chicken breasts
1 Garlic Herb Seasoning Sheet (or your favorite seasoning blend)
Salt and pepper to taste
INSTRUCTIONS
Fill and preheat the SousVide Supreme to 146F/63.5C.
Season one side of the chicken breasts with salt and pepper.
Cut the Seasoning Sheet in half and position one-half sheet on the unsalted side of each breast (or lightly sprinkle the surface with your favorite seasoning blend for poultry).
Put the breasts into small (quart/ 0.9 liter) cooking pouch and vacuum seal.
Submerge the pouch into the water oven and cook for at least 1 hour (or up to 4 hours).
Remove breasts and serve straight from the pouch – or, if desired, sear the surface of the breasts in butter in a hot skillet to impart gold color and savory flavor.