Eggs Sous Vide

From Episode 1 – Sous Vide Basics Cooking Video Series with Sharone Hakman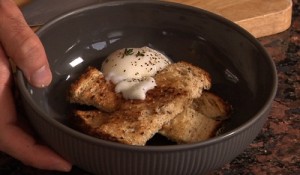 Serves 2
INGREDIENTS
2 large eggs
2 slices bread
2 teaspoons butter, room temperature
salt and pepper to taste
2 sprigs thyme, chopped
INSTRUCTIONS
Fill and preheat the SousVide Supreme to 146F/64C.
Put eggs in their shells directly onto the bottom perforated rack of the water oven and cook for 1 hour.
Just before serving, toast the bread and butter it.
Cut off the crusts, cut the slices into thirds, and arrange on a plate.
Crack an egg over the toast, season with salt and pepper, and a sprinkle of thyme.
Serve.