Sous Vide Ribeye Steak

From Episode 8 – Sous Vide Basics Cooking Video Series with Sharone Hakman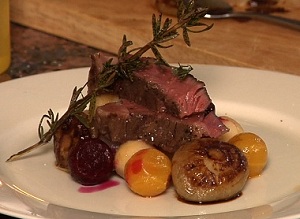 Serves 2
Serve with Sous Vide Veggies
INGREDIENTS
2 (8 ounce/240 g each) ribeye steaks

salt and pepper to taste

2 sprigs rosemary

2 sprigs thyme

2 tablespoons (30 ml) butter

6 whole garlic cloves, peeled

1 teaspoon (5 ml) olive oil for searing
INSTRUCTIONS
Fill and preheat the SousVide Supreme to your preferred degree of doneness (120F/49C rare; 134F/56.5C medium rare; 140F/60C medium; 150F/65.5C medium well)
Lightly season the steaks with salt and pepper and put them each into a small (quart/0.9 liter) vacuum pouch.

Add half the garlic and herbs to each pouch.

Submerge the pouches in the water oven and cook for at least 45 minutes (but up to 4 hours.)

When ready to serve, add oil to a skillet over high heat.

Remove the steaks from the pouches, pat dry, and sear in the skillet for 30 seconds per side to caramelize the surface.

Serve.